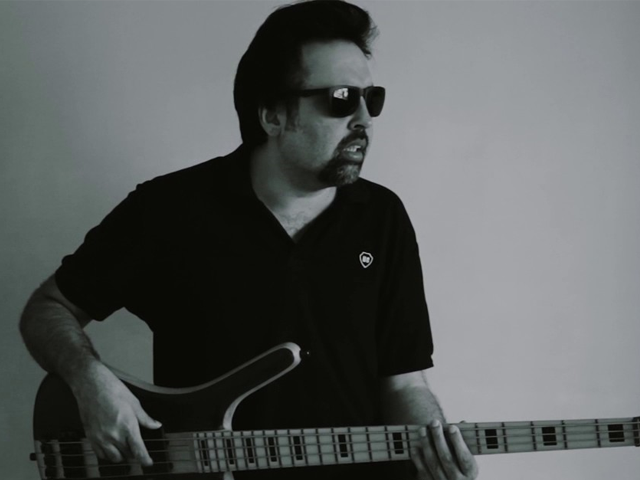 ---
KARACHI: They say bassists are the coolest of the lot. They mind their own business, keep the groove in check and usually don't speak a lot. Khalid Khan of Aaroh and Mizraab fame fits the bill. But he has finally started speaking up… with his solo music. And it's paying dividends worth the two decades he has spent in the music industry.

His song Aye Khuda has a signature Aaroh feel to it, which means it's a soulful soft number that stays with you. But it works like a plea, a prayer to the Almighty and it is no surprise that it was eventually taken up by Dawood Foundation to support the welfare of the differently abled.




"The song is about hope and faith," Khan tells The Express Tribune. "I see there are many people around who feel helpless and alone in front of everyday challenges and I want them to have faith in God."

Aye Khuda worked like a sleeper hit film. No one really knew about the song until it picked up slowly and gradually finding an audience of its own. Neither was it Khan's first solo track. While Aaroh did see few busy months since their comeback with the second Battle of the Bands, Khan has been working on his own, solo music for a while now.

"My first solo track was a love song Hai nahi teray jaisa which was produced by Jaffer Zaidi. It received a tremendous response and gave me the courage to release more music," says Khan.




The song received a lot of traction on social media and brought a totally new side of Khan on the mainstream; a not-so-silent, emotionally expressive, singer and songwriter. Listen to the song and you'll get the impression that the composer has a knack for creating and much surprisingly, singing ballads.

"Obviously there are more songs on the way," he reveals. Khan is already done with six more melodies that'll enter the production phase soon and the songs and their subject matter will not just be restricted to socially relevant messages.

"One song Alvida is a break-up song and it's a really sad song," elaborates Khan. It has been written by lyricist Khalish and is in the process of being brushed up to be recorded at Zaidi's studio.


There's another song, which is untitled so far, but once again, has a bit of a philosophical ring to it. "That song is about life and the very basic question of existence. I feel we get too carried away with the what-ifs surrounding our everyday life. We should just keep on doing what we are doing and things will eventually work out," mentions Khan.

As much as releasing an album is almost a dying trend in the local music scene, it seems like Khan's solo career will formally launch with a compilation. "Of course, I'll take the old fashioned way, "quips Khan. "If not a full-fledge album than I'll release an EP for sure."

Have something to add to the story? Share it in the comments below. 
COMMENTS
Comments are moderated and generally will be posted if they are on-topic and not abusive.
For more information, please see our Comments FAQ