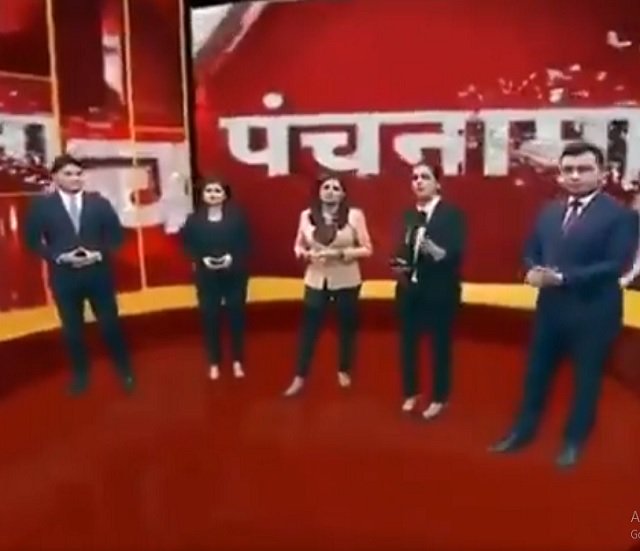 ---
Pakistan is often blamed for any and everything bad happens in India without the need of presenting evidence, but all limits were crossed when Indian media outlets pointed the finger at the western neighbour for the fresh spell of hot weather.

A video has gone viral in which news presenters are seen laying into Pakistan for sending the heatwave across the border.

One host can be heard saying that Pakistan is behind the current heatwave, adding that, "The hot winds in Sindh are sending its ripples across the border."

This led American comedian Jeremy McLellan making a sarcastic remark on social media saying, "Pakistan is attacking India with hot weather."


Pakistan is attacking India with hot weather pic.twitter.com/6Sv6jXrry0

— Jeremy McLellan (@JeremyMcLellan) June 8, 2019


No tea or coffee, Indians warned, as heatwave continues

Senior journalist and anchorperson Hamid Mir also could not resist rubbing salt into the wound, saying Prime Minister Imran Khan must create good weather in Pakistan before making peace overtures to his Indian counterpart Narendra Modi.


I don't know why @ImranKhanPTI is writing letters to @narendramodi again and again first of all he should create good weather in Pakistan and then try for talks https://t.co/luIp1izlbS

— Hamid Mir (@HamidMirPAK) June 8, 2019


Temperatures passed 50 degrees Celsius mark in the northern India triggering warnings of water shortages and heatstroke.

This is not the first occasion when the Indian media has turned itself silly in anti-Pakistan rhetoric as the country's television news channels spewed up fictitious stories to whip up jingoistic frenzy to keep the flame of hate burning in the aftermath of Pulwama incident in February.

Some of the blatant lies they churned out had left them red-faced during live coverage, providing much-needed comic relief to not only their audience but to social media trolls waiting across the border for such bloopers.

Indian media spins itself silly in anti-Pakistan rhetoric

One amusing episode happened during a live show when the anchor was presenting what he called "irrefutable evidence" that Indian jets had downed a Pakistani F-16 the day two Indian warplanes were shot down.

An aeronautical expert at the show, however, exposed the blatant lie telling the anchor that the debris of the aircraft he was showing on the video-wall were in fact from a MiG-21 Bison – an old Russian jet currently being used by the Indian Air Force – and not F-16.


#WhyIsIndianMediaStupid
India is a bunch of Liars pic.twitter.com/dP0FdklkXJ

— WARRAICH @BANIGALA🇵🇰 (@NasarNasr800) March 1, 2019
COMMENTS (2)
Comments are moderated and generally will be posted if they are on-topic and not abusive.
For more information, please see our Comments FAQ