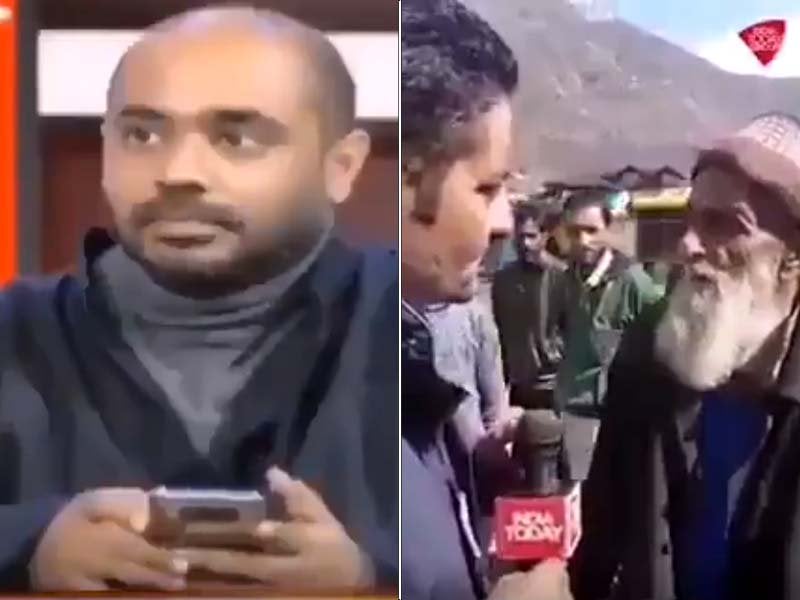 ---
KARACHI: Indian media, television news channels in particular, are baying for war – a bloody war – with Pakistan, even if it escalates into a nuclear apocalypse. They are spewing up fictitious stories to whip up jingoistic frenzy to keep the flame of hate burning.

Some of the blatant lies they are churning out have left them red-faced during live coverage, providing much-needed comic relief to not only their audience but to social media trolls waiting across the border for such bloopers.

Master at twisting facts in order to feed the audience with anti-Pakistan rhetoric, many so-called news channels ran shameless headlines such as "TITANIC WIN FOR INDIA: Pakistan to release IAF's Wing Commander Abhinandan tomorrow, crumbling under unprecedented pressure from India."

https://twitter.com/ammaraYounas_TG/status/1101422490524504065

Indian media makes mountain out of molehill, says IAF pilot in new video

One amusing episode happened during a live show when the anchor was presenting what he called "irrefutable evidence" that Indian jets had downed a Pakistani F-16 the day two Indian warplanes were shot down.

An aeronautical expert at the show, however, exposed the blatant lie telling the anchor that the debris of the aircraft he was showing on the video-wall were in fact from a MiG-21 Bison – an old Russian jet currently being used by the Indian Air Force – and not F-16.

"I don't think that's entirely accurate," the analyst, Abhijit Aiyar Mitra, said. "That part is actually from a MiG-21 as F-16 interior looks entirely different," Mitra explained, much to the embarrassment of the anchor.


#WhyIsIndianMediaStupid
India is a bunch of Liars pic.twitter.com/dP0FdklkXJ

— NASR WARRAICH🇵🇰 (@NasarNasr800) March 1, 2019


In another comical episode, an Indian journalist decided to exhibit heroics by reporting from the 'war zone'. He was reporting from Indian Occupied Kashmir near the Line of Control (LoC) telling viewers that Pakistani border guards were targeting civilian population unprovoked.

Missile shown by Indian generals appears to be one sold to Taiwan

He said dozens of villagers living near the LoC have fled Pakistani shelling to take shelter in another town. However, he was left red-faced when an elderly villager exposed his lie. "Only Indian forces are shelling in the area and that there was no fire from the Pakistani side," the elderly man said.


Indian journalist: Pakistan Army is shelling civilians in Indian territory. These people have been displaced due to this. Let's ask them

Old man: The Pakistanis did not shell us, they (Indian army) did

Indian journalist: As I was saying Pak is shelling civilians.....#Kashmir pic.twitter.com/N6lyEMtFDY

— Asfandyar (@BhittaniKhannnn) February 28, 2019


Despite Prime Minister Imran Khan's peace overtures, including release of captured Indian pilot, the mood on the other side of border remains tense with top generals claiming on Thursday that they had shot down a Pakistani F-16 and destroyed a terrorist training camp in a purported air strike.

Jingoistic film titles start pouring in as Bollywood banks on war hysteria

The claims were immediately debunked by Pakistan's military, but now independent analysts have also proved with the help of satellite images that the Indian claim of destroying alleged terrorist camp in the Jabba area of Balakot is fictitious.

Sane voices in India also accept that their media, which has become a "bootlicker for Prime Minister Narendra Modi", is destroying the Indian society with their yellow journalism.


"Switch off your TV for 2 months"

The Stink of Indian Media explained by their own anchor @ravishndtv himself ... pic.twitter.com/azR9UJvYKh

— Mansoor Ali Khan (@_Mansoor_Ali) March 1, 2019


Mumbai-based Indian writer Vaibhav Vishal strongly criticised Indian TV anchors and said that Pakistan has "collected all the brownies in this round". He was referring to the current stand-off between the two countries.


Our stupid news anchors can wear all the ill-fitting army fatigues and puke garbage standing next to graphics straight out of '80s soft porn horror films, but the fact remains that strategically, diplomatically and optically, Pakistan has collected all the brownies in this round.

— Vaibhav Vishal (@ofnosurnamefame) February 28, 2019
COMMENTS (1)
Comments are moderated and generally will be posted if they are on-topic and not abusive.
For more information, please see our Comments FAQ