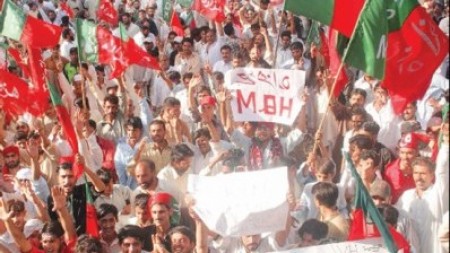 ---
ABBOTABAD: Leaders and activists of the Sooba Hazara Tehreek, or Hazara Province Movement, staged a sit-in outside the Peshawar High Court (PHC), Abbottabad bench, on Tuesday to protest the judicial commission report into the April 12 rioting.

At least eight people were killed and over 200 injured when dozens of people protesting against the NWFP renaming clashed with police in Abbottabad city.

The one-man judicial commission, comprising Justice Abdul Hakim Kundi of the PHC, released its report on Friday in which it termed the April 12 incidents as "cross-firing between police and protesters".

However on Tuesday, leaders of Sooba Hazara Tehreek, including Sardar Haider Zaman, Sardar Muhammad Yousaf and Mushtaq Tahirkheli, once again rejected the report as "biased and ambiguous." They said the report was prepared to protect those who "opened indiscriminate fire on peaceful protesters in Abbottabad April 12."

Addressing the protesters, the movement's chief Sardar Haider Zaman vowed to continue their peaceful struggle for a separate Hazara province. He said residents of Hazara would not accept the "wrongdoings" of the ANP-led provincial government.

The sit-in lasted more than two hours. Protesters dispersed peacefully after burning an effigy of Khyber-Pakhtunkhwa Chief Minister Amir Haider Hoti.

Earlier a meeting of the movement's action committee was also convened. Prominent among the attendees were Sardar Haider Zaman, Gohar Ayub Khan, Alam Zeb Khan, Syed Qasim Shah, Amanullah Khan Jadoon, Sardar Muhammed Yaqoob, Sardar Yousaf, Yousaf Ayub Khan and Mushtaq Ahmed Ghani. The meeting decided to stage a sit-in outside the high court on a daily basis.

Zaman told journalists that they would organise a huge protest rally on June 14 in which people from the entire Hazara division would participate. He also announced that a protest rally would also be staged in front of the Supreme Court building in Islamabad on June 16.

Zaman said the action committee meeting condemned, what it called, "criminal silence" of public representatives from Hazara over the "callous attitude" of the provincial government. The meeting also condemned the remarks of PML-N chief Nawaz Sharif in which he called Ahmadis "brethren" of Muslims.

Published in the Express Tribune, June 9th, 2010.


COMMENTS (5)
Comments are moderated and generally will be posted if they are on-topic and not abusive.
For more information, please see our Comments FAQ