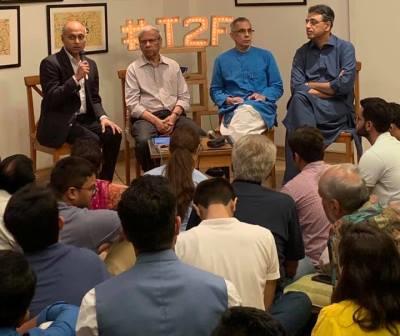 ---
KARACHI: It is no secret that when the Pakistan Tehreek-e-Insaf (PTI) government came to power, the country was facing a balance of payments crisis. There was talk of an immediate bailout from the International Monetary Fund (IMF) to deal with the dilemma, but even then the process took nearly 10 months to finalise.

Now, we have agreed on a deal with the IMF, where the Washington-based lender has offered a bailout package worth $6 billion over the next three years to meet our foreign debt obligations.

The uncertainty in the months leading up to the programme had an adverse impact on the economy. Nowhere is this more evident than in the stock market, which lost significantly on anticipation of a stringent IMF programme. Moreover, investor confidence took a hit as foreign direct investment (FDI) dropped 52% to $1.37 billion in first 10 months (Jul-Apr) of the current fiscal year due to economic uncertainty.

However, hard as it may be to believe, former finance minister Asad Umar claims that the current IMF deal is far less stringent than what was being offered back in October.

The delay may have not been for naught.

Addressing a gathering at The Second Floor (T2F) café on 'IMF & the Economic Future of Pakistan' on Sunday, Umar said: "I agree the conditions are extremely harsh, but they were tougher when we first met."

Pakistan eyes borrowing of $12.3 billion in FY20

He said there was a general consensus that there was no other option other than the IMF, which might probably have been because we always went to the IMF or that we had never before faced such a balance of payments crisis.

However, defending his government's stance in the earlier months, he said: "We did exactly that we had claimed [before elections] to explore all options."

Sharing details on work behind the scenes, the former finance minister said that he contacted an IMF official just 10 days after he took oath. It was not decided then whether the country would avail a package, however, they were called on to discuss options.

"Within a month the team came and they conducted their evaluation. Later, I went to Bali and met with Christine Lagarde and told her we want to enter into an IMF programme."

Responding to allegations on delay in approaching the IMF, Umar said: "We were trying to create options for us, at a time when the US was making statements that IMF loans will not be given to Pakistan to pay off Chinese loans."

He was of the view that it was prudent to explore other options in such a situation, and following this Prime Minister Imran travelled to Saudi Arabia, UAE and China in hopes of securing additional funding -  which he was successful in achieving.

"This was to create more negotiation room. Our talks with the IMF were ongoing, they never broke off."

To give an idea of how harsh the initial conditions were, Umar revealed that the IMF had demanded prior action of 600 basis points increase in the interest rate.

"The discount rate was supposed to go to 21 to 22%. I don't even want to tell you what they thought should actually happen to the rupee," he remarked.

The former finance minister reiterated that what has been signed was far less stringent than what was being proposed earlier.

Also speaking on the occasion, economist Akbar Zaidi was of the view that although the economy was in a precarious situation when the PTI government took charge, the incumbent government failed to improve the situation and in fact worsened it.

He said that there was no doubt that the country needed to go to the IMF but the PTI government looked to other avenues. They did not decide on how to take the economy forward.

"They took loans from friendly countries, which eventually kept on getting spent."

Zaidi said that of the 22 agreements that Pakistan has had with the IMF this was the most stringent. "This is largely because in the initial 10 months, this government did not understand the situation, which is why they couldn't handle the situation or find the solution."

He was of opinion that there was no road map or economic plan of the new government.

On the other hand, Umar claimed that the current government had been working tirelessly to improve the situation.

Drawing comparisons, he said that when Ishaq Dar became finance minister, he had about seven and a half month worth of reserves to finance the current account deficit and even then they went into the IMF programme. In contrast, when Umar took oath he had just 20-day worth of reserves.

"Three months before I took charge, Pakistan had an average current account deficit of $2.03 billion a month, an annualised pace of $24.5 billon. In my last three months it was $636 million a month, an annualised pace of $7.5 billion."

This he claimed was why the IMF said the economy had responded far quicker to the measures adopted by the government and then they started modifying their stance.

"We were taking actions," he clarified.

Umar further added that when faced with such circumstances no one can be expected to maintain 5.2% growth and not go bankrupt.