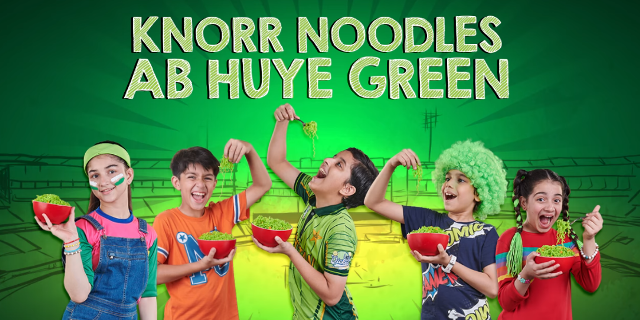 ---
Recently a green wave went buzzing over social media where various celebrities were going Dana Dan Green. We wondered what the commotion was all about; hence we took some wild guesses and guess what? We sure love to be right! The wait is finally over.

The Dana Dan Green is a chant that Knorr ingeniously came up with in order to support Pakistan's cricket team in the World Cup'19. The #DanaDanGreen surely is the most perfect World Cup chant of all times! Not only is it the best way to support team Pakistan, but we just cannot stop humming to the catchy tune.




Whether it's launching a kid's show to bust their boriyat, partnering with Citizens Foundation to eradicate illiteracy or satisfying hunger pangs of literally everyone, Knorr certainly has the right ingredients to make our hearts sing with joy. It has continuously surpassed our expectations but this time it has outdone itself in terms of creativity.


This year, as never seen before, a very distinctive and scrumptious variant of "new" noodles was launched. These noodles not only taste oh-so-amazing but also look extremely stunning! Yep, you guessed it right…they are green! How cool is that?

This means that this world cup, you can show your support for team Pakistan and keep your spirits high with a bowl of hot and steamy green noodles. Easy peasy isn't it? These yummylicious green noodles are our favourite munching snack while watching the world cup #EatgreenSupportgreen.




Amidst the matches when a commercial break randomly pops up, we get rather annoyed and find ways to bust our boriyat during the nail-biting moments. Chuck and Chatty promptly come to our rescue by raising our entertainment quotient through their latest TVC that is super exciting to watch during dreary cricket breaks.

The green noodles are infused with flavours that not only tantalise our tastebuds but also uplift our patriotic spirit. It busts boriyat and delivers a thoughtful message that convinces us to keep the spirits high and the support for Pakistan team strong. Try the new colorful noodles and make sure to cheer for Team Pakistan because "Haar ho ya jeet, spirit na ho beat."