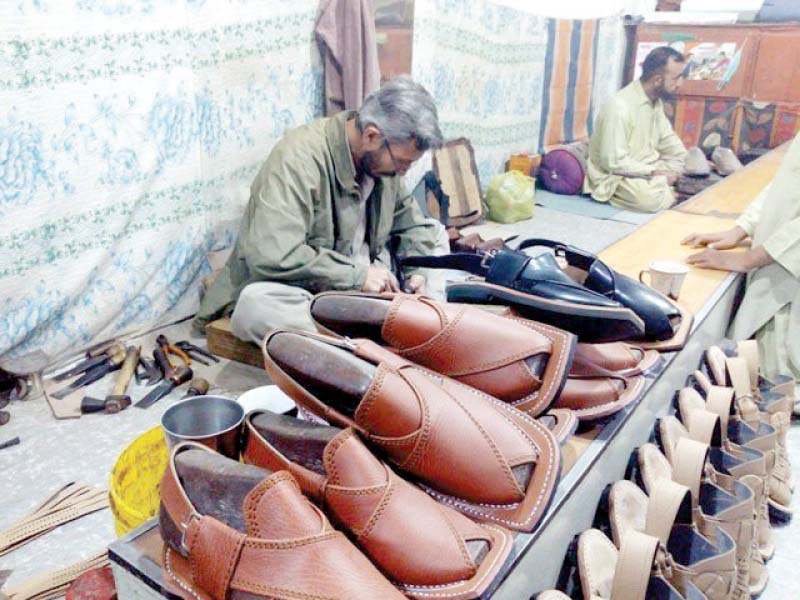 ---
KARACHI: No shalwar kameez is complete without the traditional Peshawari and Balochi footwear to go with it. With Eid fast approaching, men take to the markets to hunt for the latest trends. As people throng to the market, the craftsmen who make these sandals use the earning opportunity presented to them.

The biggest and oldest market for Peshawari footwear is located in Nazimabad No. 2. Other markets for sandals can be found in Sher Shah, Banaras, Landhi, Dawood Chowrangi and Mohajir Camp 24. The biggest market for Balochi footwear on the other hand, is located on Gharib Shah Road, Lyari.

The market in Nazimabad was established more than 150 years ago and currently, there are around 70 shops selling the Peshawari chappals, made with leather and rexine. Over the years, it has come to attract people from different ethnic backgrounds and become a symbol of unity. Not only Pashtun residents of Karachi visit the market, but Urdu speaking people also shop there. The footwear sold there is reflective of Kohati, Chakwali, Multani, Lahori and Bolochi traditions.

Artificial jewelry sales soar ahead of Eid

Types and styles

According to the shopkeepers, Peshawari sandals are the most sought after followed by Balochi footwear. The third most popular sandals sold are Kohati footwear followed by Chakwali and Attock footwear. The soles of these shoes are made of old tyres which make them highly durable.

Among the Balochi footwear, Bugti, double palla and Atangwadi chappals are the most popular styles. People buying Peshawari sandals prefer the pointed, round cut sandals with thick soles. The famous among Chakwali sandals are those embroidered with zari. Zari embroidery is also a prominent feature in Multani Kheris.

The latticework designs in black and brown Kolapuri footwear is also fast gaining people's interest.

Preparation for Eid

To meet the increasing demand for Peshawari and Kohati footwear for Eid, preparations are started a month prior. Expert craftsmen travel to Karachi from various parts of the country and factories are set-up in houses in the surrounding areas of Mujahid Colony Nazimabad No 2 where they work from Iftar till Sehri.

More than 500 labourers and craftsmen are associated with the business of Peshawari footwear in the market in Nazimabad No. 2. During Eid season, additional salesmen also work there. They are paid commission on each pair they sell in addition to their salary for the month.

These days, Gharib Shah Market has turned into a fair. Shops remain open all night long and in addition to the concrete shops, many temporary stalls have also been set up.

Bolan Chappal House is a renowned name in the market.  Its owner, Abdur Rauf, says that he, along with his brothers, inherited the business from their father. He said that apart from Baloch and Sindhi, his clinets include a large number of Urdu speaking people. Their sandals are not only popular in Pakistan but also famous among Pakistanis residing in Gulf States. Bugti and Mari cut Balochi footwear are the most popular varieties. An evergreen design named Norozi is also very famous.

Expensive indulgence

Good quality and durable Peshawari footwear can be bought for Rs1,000 to Rs1,200 a pair. Depending on their designs and colour, certain varieties can even go for Rs2,000 to Rs2,500. Balochi footwear, however, is more expensive than Peshawari footwear. A simple pair is sold for Rs1,500 while shopkeepers may charge Rs2,000 to Rs2,500 for a good quality pair. The fancier designs can be bought at prices as high as Rs10,000.

With the increasing cost of leather and labour, the price of Peshawari footwear has also increased. Fazal Khan, who is the owner of Mardan Chapal House, told The Express Tribune that the cost of the footwear has increased by Rs100 to Rs150 as compared to last year. He added however, that the buyers of Peshawari footwear mostly belong to the low income group, which is why they have made it a point to not increase the shoe prices. "Instead, we bear the increased costs ourselves by reducing the profit so that the footwear can be within the customers' purchasing power," said Khan.

Various men's footwear brands have also introduced a range of Peshawari footwear made of artificial leather. One of the brands, Borjan, has introduced 13 designs whose prices range from Rs1,190 to Rs4,990. The sandals are also available online. A store by the name, Peshawari Chappals, sells beautiful designs including Charsadda, Quetta, Norozi and Kaptaan.

The price of footwear available online is slightly higher than the markets. However, the online retailers also give money back guarantee, besides return and exchange options.

Published in The Express Tribune, May 28th, 2019.
COMMENTS
Comments are moderated and generally will be posted if they are on-topic and not abusive.
For more information, please see our Comments FAQ