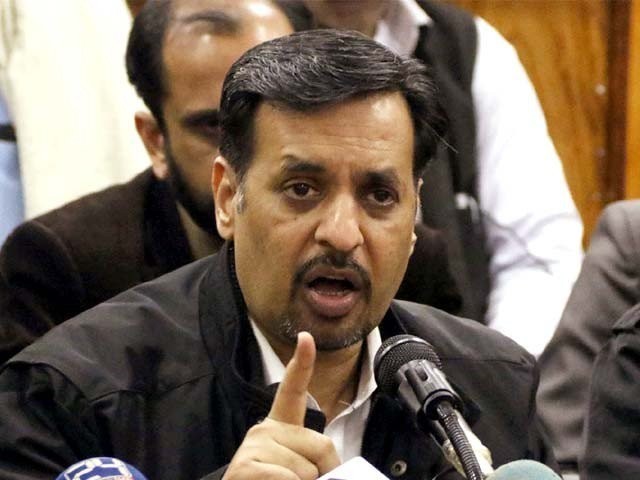 ---
HYDERABAD: The Pak Sarzameen Party (PSP) Chairperson Syed Mustafa Kamal has said that the Muttahida Qaumi Movement - Pakistan's (MQM-P) demand for a new province in Sindh is a conspiracy to incite a clash between the Sindhis and Urdu-speaking people in the province. "But the PSP won't let this conspiracy materialise," he asserted while speaking at an Iftar dinner in Hyderabad on Sunday night.

He said the people of Sindh welcomed and embraced the Urdu speaking people after the migration like the Ansar of Madina had welcomed the people of Makkah.

Mocking the MQM-P, he said that a party which often complained that its mayor in Karachi even lacked the authority to clean drains and dispose of solid waste is talking about creating a new province. Kamal reminded the party's leaders that two-thirds majority in the assembly is required to pass a bill in this regard.

MQM-P to table bill in NA for new province

"They couldn't even resolve the problem of Martin Quarters which only requires the signature of Prime Minister Imran Khan." Similarly, he added, the MQM-P banged the drums against the population census of 2017 but while sitting as coalition partner in the federal government, it has apparently forsaken the issue. Kamal said that the MQM-P's threat of quitting the coalition is also a shallow warning.

Commenting on the Pakistan Tehreek-e-Insaf government, he said that the present system had failed to deliver. "Like a computer is rebooted if it gets hanged, the system also needs a reboot." He lamented that hundreds of thousands of people have become redundant in the first eight months of the PTI's government while the household expenditures have spiralled up exponentially.

"The previous governments are blamed for the existing situation. The previous rulers were bad but you [Khan] had come to bring the change then why couldn't you rectify the things in the country?" he questioned the PM. Kamal also advised Khan to rise above the political differences with Pakistan Peoples Party's Sindh Chief Minister Syed Murad Ali Shah as the latter says without his cooperation the centre cannot execute development projects in the province. "Khan should demonstrate magnanimity and talk to the Sindh CM for the sake of the province."

The PSP chairperson also advised National Accountability Bureau Chairperson justice (r) Javed Iqbal to step down and allow an impartial probe over his conversation with a woman which surfaced in a video on the social media. Kamal proposed that Karachi, Lahore and Faisalabad be developed as model cities of Pakistan especially by giving them an autonomous administrative system.

The PSP's President Anis Qaimkhani, Shabbir Qaimkhani, Ashfaq Mangi and other leaders were also present.

Published in The Express Tribune, May 28th, 2019.
COMMENTS
Comments are moderated and generally will be posted if they are on-topic and not abusive.
For more information, please see our Comments FAQ