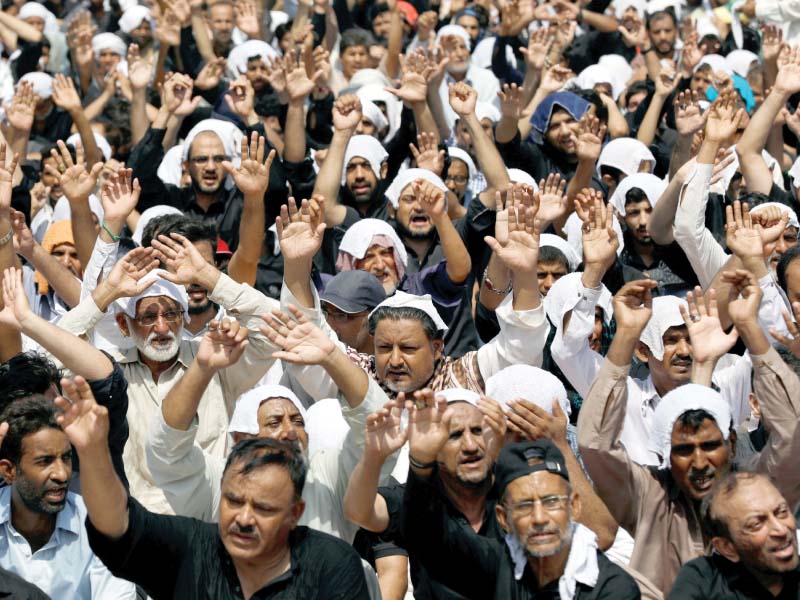 ---
HYDERABAD/ KARACHI: The martyrdom of Hazrat Ali (RA) was commemorated across Sindh on Monday. The mourners organised processions and majalis to mark the day which is also called Yom-e-Ali.

In Karachi, the main majlis was held at Nishtar Park and was addressed by Allama Raza Haider Rizvi. It was followed by a procession. The participants offered Zuhrain prayers at Mazar-e-Quaid, before marching towards Hussainia Sajjadia Imambargah via its traditional route.

The central procession in Hyderabad, which witnessed the year's hottest day, with the mercury touching the 45 degree centigrade mark, was taken out from Karbala Dadan Shah in the afternoon. The procession's thousands of participants took over four hours to cover the distance of around a kilometer before it culminated at Qadam Gah Moula Ali (RA).

Youm-e-Ali being observed across the country

On the way, the mourners were continuously showered with water to prevent dehydration. According to the Hyderabad SSP, 1,200 policemen and 100 lady police personnel were deployed for the security. The procession was monitored through 60 CCTV cameras. Earlier, the bomb disposal squad cleared the procession's route.

The main procession in Benazirabad started from Imambargah Yadgar-e-Karbala. More than 500 policemen escorted the procession in Mirpurkhas. The processions were also taken out in Sukkur, Larkana, Badin, Umerkot and other districts of Sindh. 

Published in The Express Tribune, May 28th, 2019.