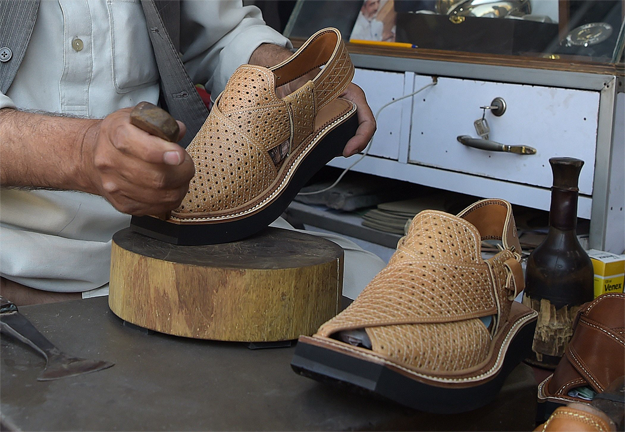 ---
PESHAWAR: Despite a growing number of imported shoe brands available in the market across Pakistan, Peshawar's centuries-old chappal continues to maintain its distinct charm.

And with the accessibility brought forth by online shopping where people's favourite items are just a click away, the sale of Peshawari chappal has doubled over the years.

It is not only Pakistan where the unique design of Peshawari chappal is popular but international designers like Paul Smith – who came up with Robert Sandals – and French shoe designer Christian Louboutin also took inspiration from Peshawari chappal.

By incorporating a few changes to its original design that has been preserved for decades, a new version called the 'Imran Khan Chappal' was introduced in K-P which is now in high demand. The chappal is also exceedingly popular because, despite its high quality and unique design, a pair can be bought for as low as Rs5,000 (US$35).

Makers believe that minor modifications to the design have not only attracted locals but the chappal is also making waves in international markets.

Pride and pique: Louboutin takes Peshawari chappal global

Sharing the story of how the famous Imran Khan Chappal came into being, its maker Chacha Nooruddin told The Express Tribune that he gifted them to the Prime Minister of Pakistan.

"I saw that PM Khan was wearing a pair of Peshawari chappals with a broken sole," Nooruddin recalled. "Since I was dealing in Peshawari chappals, I thought of making a new, modified pair for him." Chacha Nooruddin added that many of the provincial and national assembly members are his clients but the person behind his meeting with the prime minister was National Assembly's Deputy Speaker Qasim Khan Suri.

Providing further details, Nooruddin said that he did not anticipate the whopping response from the general public but once the chappal was present to PM Imran, Nooruddin started receiving orders from PTI followers in huge numbers. Many PTI followers also placed orders for the Imran Khan Chappal to send it to their relatives and other party supporters abroad. "Owing to its popularity, I also gifted a pair of Peshawari chappals to West Indies cricketer and Peshawar Zalmi Captain Daren Sammy," Nooruddin said.




"This was a great way to promote our products as the Peshawari chappal has become a cultural symbol of Khyber-Pakhtunkhwa (K-P). In this way, more and more foreign buyers will be attracted to purchase the sandals," he said. With over 350 shops, Peshawar's chappal market has taken over the shoe-making industry as not only shopkeepers across the country are selling it but online shopping has helped flourish the business too, particularly over the last eight to 10 years.

According to local traders, the massive Peshawari chappal market, located in heart of the provincial capital has been producing 10,000 pairs of chappal per day on average and the chappals are transported not only to markets across Pakistan but are also exported abroad, specifically to Gulf countries.

Peshawar's chappal makers deem Paul Smith's 'Robert sandal' outdated

"You will find generations of chappal makers carrying on with the same business in Peshawar and they are doing well," Sultan Khan, a chappal maker in the historic Namak Mandi told The Express Tribune.

According to Sultan Khan, chappals are not only made by just stitching cut leather onto a sole, but a perfect pair goes through seven different stages of production.

"Typically, the making of the chappal involve at least seven people in order to make a fine Peshawari chappal pair before it is supplied to the market," Sultan Khan added. "It is not simply a chappal but an industry."

In order to produce 10,000 pairs of Peshawari chappals a day, some 20,000 feet of hi-kuram (a type of material used in making chappals) is used which costs around Rs4million. That apart, some 6,000 meters of string and other material, together with rubber worth Rs2million is used to make chappals on a daily basis in Peshawar's Jahangirpura bazaar and Namak Mandi alone.

Published in The Express Tribune, May 20th, 2019.
COMMENTS
Comments are moderated and generally will be posted if they are on-topic and not abusive.
For more information, please see our Comments FAQ