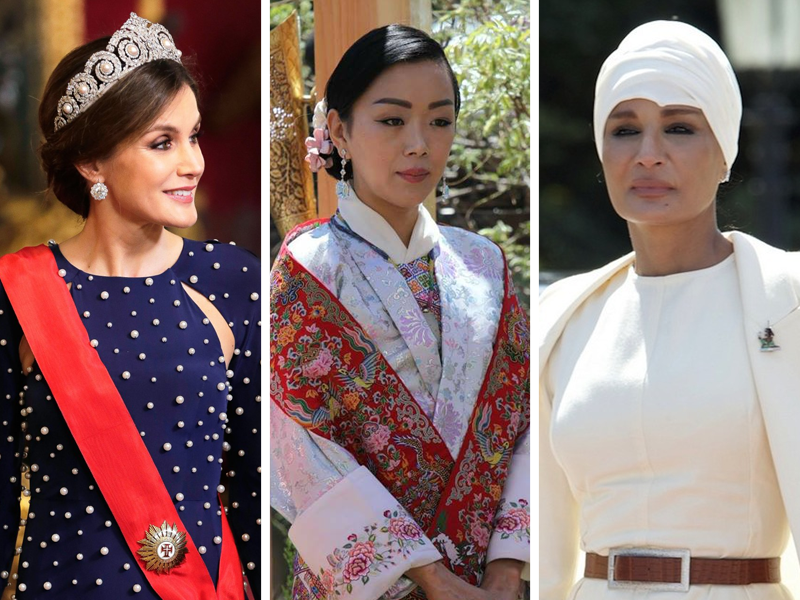 ---
Meghan Markle and Kate Middleton may be the most talked about royals in the world, courtesy their impeccable styles, personal problems and Royal husbands. But many of us are unaware of other beautiful, crowned women that rarely make the headlines. From Thailand and Bhutan to Sweden and Qatar, here are some amazingly talented and stunning royals you probably didn't know existed.

Princess Sirivannavari of Thailand 

You may not have heard about Princess Sirivannavari Nariratana of Thailand but she is a style force to be reckoned with. As a 20-year old fashion undergrad at Bangkok's Chulalongkorn University, Sirivannavari was invited by Pierre Balmaun to debut her collection at Paris Fashion Week back in 2007.  The fashion line, called 'Presence of the Past', juxtaposed traditional Siamese dresses with modern street style.




The royal has since presented a number of collections.  She credits grandmother HM Queen Sirikit, who was famous for her own hybrid styles incorporating elegant westernised gowns in the '60s. The Thai princess was also ranked as one of the top 20 hottest royals by Forbes in 2009.




Mozah Bint Nasser of Qatar

This Arab beauty is married to Sheikh Hamad bin Khalifa and she's a beauty with brains too. Mozah holds a BA in Sociology and was awarded as an honorary Doctor of Humane Letters from Virginia Commonwealth University.

The Qatar royal has many foreign honors and is the chosen wife who represents her husband at international events and conventions. She is also known for her fashion sense, sporting turbans and elegant dresses.




Victoria of Sweden

This Scandinavian is actually next in line to the Swedish throne and will be the fourth queen regnant in the country's history. Her title was changed from Duchess to Princess in 1980 when a law reform allowed the throne successor to be of either gender, regardless of marriage. Victoria is one out of only three crown heiresses in the world.

The mother-of-two dresses to impress in feminine yet understated gowns and is loved dearly by the people of Sweden. A people's queen, literally!




Sonam of Bhutan

Princess Sonam is also proof that beauty and brains are not mutually exclusive. The daughter of the Fourth King of Bhutan, this stunning 32-year-old has a degree in international relations from Stanford University and a Master of Law from Harvard.

The princess resides in the small South Asian country and has been married to Dasho Phub W Dorj since 2009.  She is a major political player and the current President of the Bhutan National Legal Institute.




Letizia of Spain

Queen Letizia of Spain is one of the world's favourite royal fashionistas!




But don't assume she has always led a bejewelled life.  Coming from a middle class family, the Spanish stunner was a journalist and a news anchor before her marriage to King Felipe in 2004. And she isn't shy of showing off her sartorial prowess in spot-on trendy outfits. We think she could give Meghan and Kate a run for their money with her wardrobe as she just never seems to get wrong!




Which one of these royal stunners is your favourite?

Have something to add to the story? Share it in the comments below.