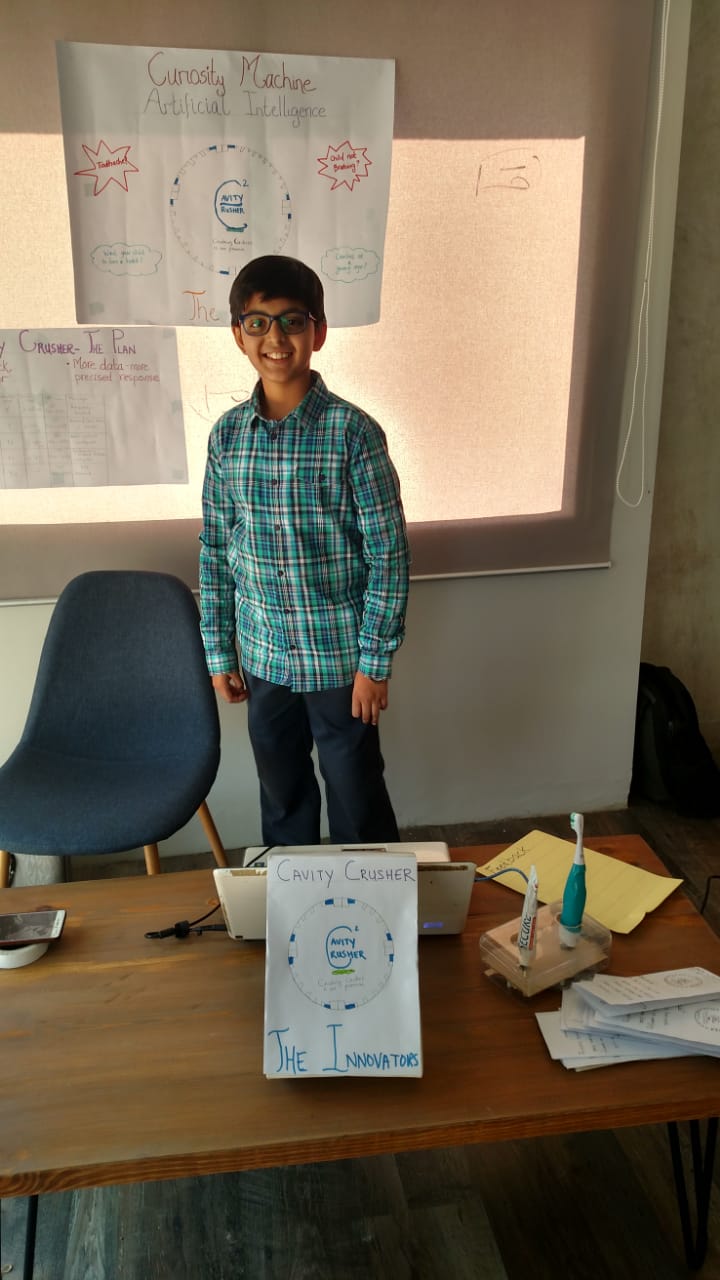 ---
KARACHI: Getting your child to brush their teeth can be a chore. Ingraining healthy and sanitary habits in children is a primary concern of any responsible parent and yet more often than not, those are the very habits that children run away from. Typically, it takes constant reminding from the parent as well as reinforcement from school for a child to pick up the habit. An exceptional kid, 10-year-old Yasir Salman, has come up with an artificial intelligence (AI) based solution to make the parents' job easier.

The 'cavity crusher'

Yasir, with his parents' assistance, has built an application which connects to a stand through Bluetooth signal. One need only place their conventional toothpaste and toothbrush in this stand and the application will pick up on when the two items are taken out of the stand and how long the child has spent brushing their teeth. An AI-based monitor will assess the time spent to determine the child's oral health habits, the application will then send a message to the parents informing them accordingly. The device will also be able to tell whether the tooth paste was used and if yes, how much of it was used. Yasir and his family call this technology 'the cavity crusher'.

The technology is not only useful for caregivers who can monitor their child's teeth-brushing practice but also fascinating for children to observe a device picking up when their toothbrush and toothpaste leaves the stand. It is likely to serve as a motivator for it's not just an adult nagging a child but a cool AI-based device tracking the child's habit.

Diabetics advised not to ignore dental conditions

As Yasir puts it, "Our solution is to create a long sustaining habit for children like me who develop early learning and bad brushing behaviour, hence comes the cavity crusher!"

The young inventor's idea has been chosen by the American-based Curiosity Machine's AI Family Challenge and he has been invited to present his invention before leading technology experts at Silicon Valley. Yasir is among six children selected from across the globe and the only one to be chosen from Pakistan. The family will be attending the three-day conference from May 16 to 19 in California and Yasir will present a prototype of his invention and benefit from the feedback given by representatives of tech giants such as Intel and Facebook.

Young inventor

Yasir is a sixth grader at Foundation Public School, a Hafiz-e-Quran, and a resident of Gulistan-e-Jaushar. His father, Salman Mayet is a banker with a masters in business administration (MBA) degree, and his mother, Fareeha, is a homemaker while pursing medical education.

Yasir and his family entered the AI Family Challenge held this March with the cooperation of Pakistan Science Club. Fareeha, who believes strongly in encouraging children towards scientific solutions felt that the Pakistan Science Club provided a platform dedicated to nurturing a child's potential. "Our children do not lack abilities, but we need platforms like these to nurture their capabilities," she told The Express Tribune.

Since Yasir himself has frequently been chided by his parents for practising poor dental hygiene and is keenly aware of children's fondness of candies, chocolates, junk food and sweet edibles, he chose this particular issue to address.

The competition called for families to come up with innovative solutions for prevalent social issues so the Salman family researched extensively before deciding on their product.

Away with the decay

Yasir and his family wanted to be sure that the issue they addressed wasn't just a concern in their household but other parents and children struggle with it too. They needed to determine whether teeth related ailments were common among children.

The family conducted a survey with a sample of more than 100 families. Over 70% of the respondents felt that developing healthy oral habits among children was difficult and a cause of concern for most parents. The respondents also supported the hypothesis that a creative solution was needed.

International research also revealed that craniofacial, a disease which stems from tooth decay, to some extent affects nearly 40% children between two to 11 years of age. According to the US-based National Institute of Dental and Craniofacial Research, 28% of children aged two to five years will suffer from the decay of at least one tooth.

After establishing a need for their proposed product, Yasir and his family focused on its feasibility. Since smart tooth brushes are available in local markets but at higher prices, they wanted their innovation to be accessible to the average person. Hence, they decided to design their invention such that ordinary toothbrushes and toothpastes could be used.

Along with his parents, the family's dentist helped Yasir carry out his research. At first a prototype was created to test the effectiveness of the sensors and the algorithm used to monitor the child's tooth brushing habits. This was presented at the Pakistan Science Club. The idea was well received and the Pakistan Science Club organised 10 brainstorming sessions to help polish the idea and document it through a video which would help Yasir enter the contest.

Proud parents

The AI Family Challenge is a global competition which had over 7,500 participants and more than 200 AI invention submissions. Six innovations were chosen, three for the senior division - for preteens, and three for the junior division - children under 11 years of age. Yasir was the only Pakistani chosen for the three-day conference at Silicon Valley and his parents could not be prouder.

"I could not believe when our idea was chosen since amazing ideas from across the globe were presented for the contest," said the proud mother. Other winners hail from United States of America, Spain, Uzbekistan, Palestine and Bolivia.

"Yasir's idea was appreciated because it was a child resolving children's issues," said Fareeha, adding that Yasir had the added joy of making Pakistan proud through this competition.
She stressed that innovative abilities are nurtured through practical experiences supplemented with children's astute observations.

Children's attention towards science is crucial for Pakistan's success in this day and age, she opined.