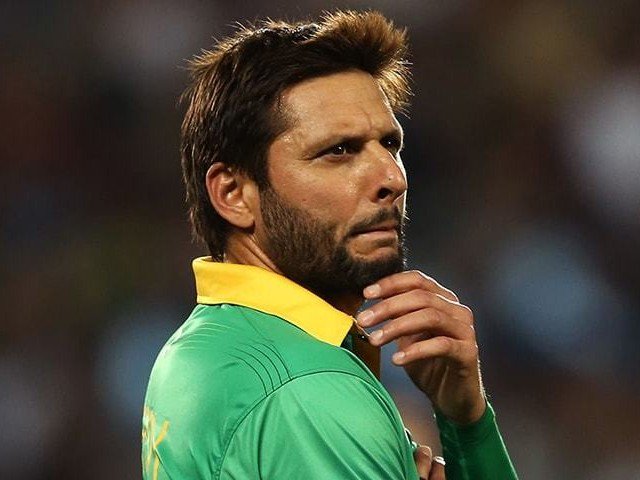 ---
KARACHI: Former Pakistan cricket team captain Shahid Afridi has said that he will not allow his daughters to play any outdoor sport, and feminists can say whatever they want about his decision.

In his recently released biography titled Game Changer, which he co-authored with journalist Wajahat Saeed Khan, the swashbuckling all rounder has made many startling revelations about his personal and professional life.

The cricketer is father to four daughters, named Ansha, Ajwa, Asmara and Aqsa Afridi. In the book, Afridi states that he will not allow any of his daughters to play outdoor sports because of social and religious reasons.

Shahid Afridi clarifies 'lack of talent' statement

"The feminists can say whatever they want about my decision," he writes in Game Changer. According to Afridi, his daughters, two of whom are in their late-teens already, are good at sports, but better at academics.

"Ajwa and Asmara are the youngest and love to play dress-up. They have my permission to play any sport, as long as they're indoors. Cricket? No, not for my girls. They have permission to play all the indoor games they want, but my daughters are not going to be competing in public sporting activities."


Shahid Afridi says there will be no outdoor sports for his daughter, feminists can say what they like. Personally, I'm saying, here's another Pak PM in the making

— Darshana (@cup_and_chaucer) May 9, 2019
Don't be a Shahid Afridi to your daughter, sister, or wife. Let your women be. Also, it's alright to have housemaking as a purpose, so if she's happy doing so, there's no harm. But as you know, gender roles are transforming rapidly, for good. So don't get nervous, & be a partner.

— idk, google empathy (@TheSortedChaos) May 8, 2019
#ShahidAfridi is no better than a typical middle-aged average Pakistani guy, who wouldn't mind hanging out with someone else's daughters but would balk if his own did the same(See pic below) Unfortunate statement given Pakistan is a country with its own women's cricket team. https://t.co/gd8oUTeGbX

— Salman Siddiqui (@salmansid) May 9, 2019




Afridi has previously landed in hot water with his remarks related to women. The big-hitting batsman came under fire in early 2014 after footage of a TV interview in which he praised the cooking skills of women in response to a question about their cricketing abilities.

Controversial remarks on Pakistan, Occupied Kashmir land Shahid Afridi in hot water

In the days to follow, Afridi insisted his remarks had been taken out of context by people who wanted to bring him down after his performances on the field during the time.

In addition to controversial remarks about feminism, Afridi has made other revelations, including an admission that the year on of his birth is 1975, and not 1980, as previously believed.

He also hit out at former team-mates Javed Miandad and Waqar Younis for promoting politics within the dressing room of Pakistan cricket team during their coaching and playing days.

Have something to add to the story? Share it in the comments below.