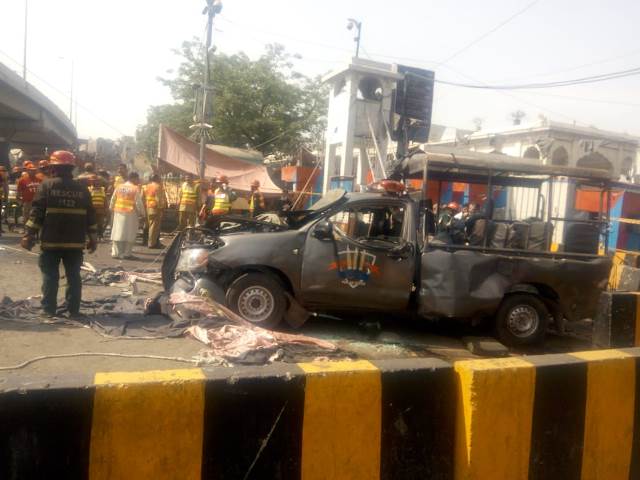 ---
LAHORE: The death toll of the bomb blast, targeting police outside the famous Data Darbar shrine in Lahore, reached 11 after an injured security official succumbed to his injuries, Express News reported on Thursday.

The martyred constable Saddam Hussain was wounded in yesterday's terror incident when an alleged suicide bomber detonated his explosive-laden vest near one of the gates of the shrine. Several people also sustained injuries as a result of the explosion. Saddam passed away due to excessive bleeding.

Terror revisits Data Darbar in holy month

Meanwhile, two of the martyred police officials, hailing from Sargodha and Gujranwala, were laid to rest in their respective hometowns.

According to details, funeral prayers for Elite Police's head constable Gulzar were offered in Chak Jaan Muhammad Wala Sargodha. The regional police officer (RPO), the district police officer (DPO) along with the members of the provincial assembly also attended his final rituals.

In Gujranwala, a contingent of police paid tribute to the martyred Elite Police official, Sohail Sabir Virk following which he was also laid to rest in a local graveyard.

Another victim of the shrine blast, Rafiq Ahmed, a resident of Multan, was in Lahore along with his 13-year-old son and nephew to find work. He was in the shrine when the unfortunate incident happened yesterday.

The blast, a day after the beginning of Ramazan, went off at 08.44 am near the shrine's gate number 2 of the Data Darbar, one of the largest shrines in South Asia, which attracts tens of thousands of visitors a year.

The bomber is said to be a 16-year-old boy wearing shalwar kameez and a jacket. Footage from a nearby CCTV camera shows the suspect walking across the road to Elite Police van where the blast takes place.

Punjab Chief Minister Sardar Usman Buzdar, Punjab IGP Nawaz and Punjab Counter Terrorism Department (CTD) Chief Rai Tahir also visited the crime scene.

Prime Minister Imran Khan issued a statement condemning the attack and asked the provincial government to help the victims.

The forensic staff and investigators also collected evidence from the blast site including CCTV footages of nearby shops. They were skimming through the videos to know the movement of the suspect and his possible facilitator/handlers. They were also conducting geo-fencing of the area.

On Wednesday evening, funeral prayers of martyred police officials were offered at Qila Gujjar Singh Police lines in which government representatives, senior police officers, army officers and others said the prayer.

Later Jamaat-ul-Ahrar (JeA), a splinter faction of the outlawed Tehreek-e-Taliban Pakistan (TTP), reportedly claimed responsibility for the attack. This was not the first attack in Lahore claimed by the group. It has also claimed responsibility for all the four previous attacks that have taken place since February 2017.

Police still clueless about major suicide blasts in Lahore

These attacks include February 2017 Mall Road attack; April 2017 Bedian Road blast on a census team; July 2017 Ferozpur Road blast on a group of Anti-Riot Force officials and Raiwind Road blasts targeting a police post.

The Data Darbar was also targeted in 2010 when a suicide bomber had killed more than 40 people. Since then it is heavily guarded. An attack in Lahore in March 2018 had left 9 people dead, while a major blast had targeted Christians celebrating Easter in a park in 2016. Over 70 people were killed in the attack.

Probe underway

Punjab Chief Minister Sardar Usman Buzdar said that an investigation of Data Darbar blast was underway.
Speaking to the media representatives at Mayo Hospital in Lahore on Thursday, the chief minister also distributed assistance cheques among the injured people.
Those who were seriously injured as a result of the blast received a cheque of worth five hundred thousand rupees each, while people with minor wounds got cheques of one hundred thousand rupees.