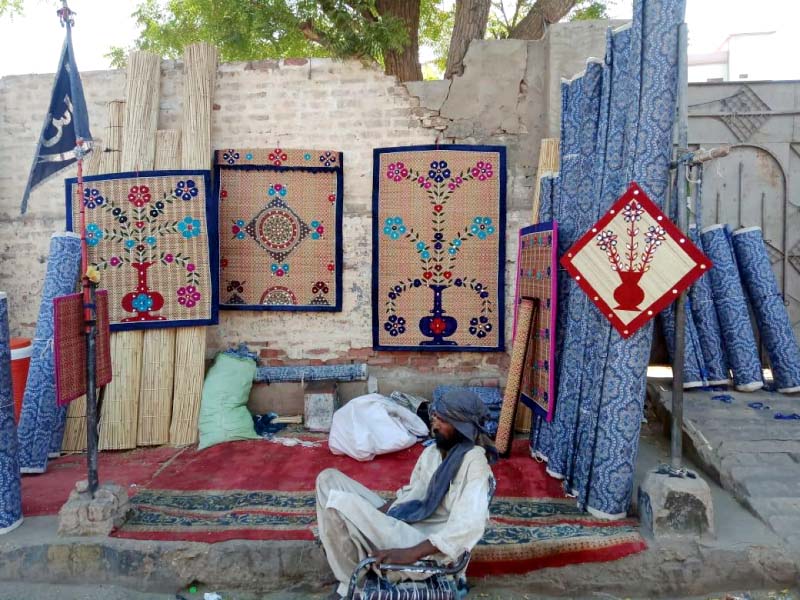 ---
HYDERABAD/ KARACHI: Visit any village in Sindh and you are likely to find the majority houses made of thatched roofs or enclosed in fencing made of reeds - a tall woody perennial grass with hollow stems, mostly grown in lakes and ponds.

Dried reed stems are commonly used as construction material, mostly in rural areas. Usually, it is used in making thatched roofs and fencing screens for covering doors and windows.

Over the years, however, reed fencing has become much more than a way to build a roof or an enclosure. It is now an art form, with one particular tribe, the Jogis, making their mark as pioneers of the skill.

The Jogis, who ascribe to the Hindu faith, can be found manufacturing and selling colourful pieces of reed fencing screens in different sizes and designs at the Deen Muhammad Wafai Road, Hyderabad. They also display several samples of their colourful art work outside the walls of Radio Pakistan building to attract buyers.

Some of the fencing on offer is plain, while others have intricate patterns painted on them. Besides, there are different types and sizes of reed screens, commonly used as sheds for doors and windows in houses. These include screens in small sizes, containing hand-made flowers and other colourful designs. People buy these items to display in their drawing rooms, both in small towns and big cities. Some mirrors decorated with flowers and different designs are also on display at the footpath.

The swashbuckling swordswomen of Karachi

"We mostly use silk and 'Bakhmal' fabric in manufacturing fancy reeds screens. They are used in thatched roofs and as hanging covers at doors and windows", said Shivdas, a member of the Jogi community. Speaking to The Express Tribune during a recent visit to Hyderabad, he said that they also use glass, lace, embroidery thread and other things to decorate mirrors. People buy these decorated mirrors for their houses mostly in larger towns of the province, he added.

The reeds are procured from Sanghar district, while silk and 'Bakhmal' fabric is brought from Kasoor, Punjab. They buy other material, such as glasses, laces and embroidery threads, used for decorating these items from local market. A group of three to five persons spend hours making a fencing screen, which then sells for Rs1,000 for a big one and Rs500 to Rs600 for a small one.

The artists

Shivdas is a father to four girls and a boy. Two of his daughters are married. Like him, none of his children are literate.

According to Shivdas, around 50 families of his tribe are involved in the manufacture and safe of the reed products. Over half of them are homeless, he claims, adding that some sleep in small grass huts set up behind the Radio Pakistan building, while others sleep on the footpath adjacent to the building.

"Only four male members among all the families are literate, having studied up to class IV and V," said Shivdas. He added that the families have been living in the same place since before Partition. The art of reed fencing too has been passed down to them by their forefathers.

"We also work on our special religious days such as Diwali," he said, adding that they only took off on Islamic religious days as markets were generally closed on these days and they did not have buyers.

Published in The Express Tribune, May 9th, 2019.
COMMENTS
Comments are moderated and generally will be posted if they are on-topic and not abusive.
For more information, please see our Comments FAQ