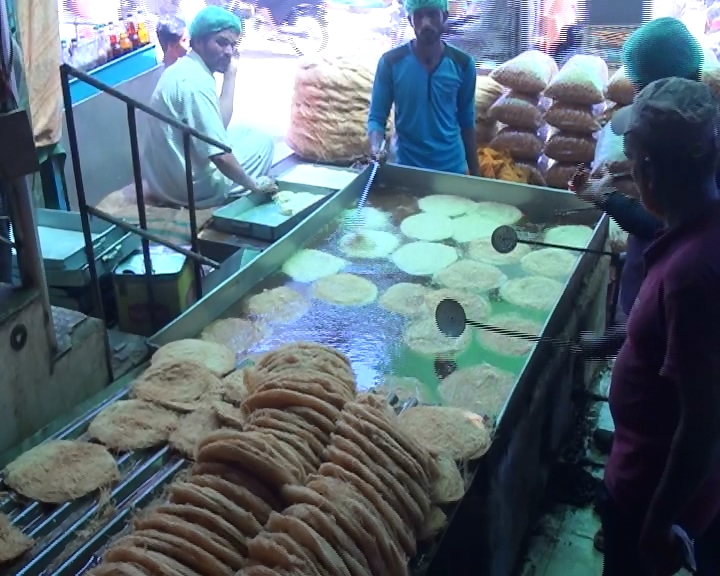 ---
KARACHI: As the holy month of Ramazan begins this year, people are making their way to their local confectioners and bakers to get a hold of the much sought-after khajla and phenni, as a way to keep cool. Various shops, expecting the increase in demand for the delicacy, have set up large woks to prepare the items.

Khajla and pheni are a type of vermicelli and its origins date back more than 150 years. The only difference between Khajla and Pheni is that they are made in a round shape like roti and strings respectively. Its makers claim that when consumed a person may not feel hunger and thirst during their fast. It is for this reason that the food items are eaten with milk in Sehri.

Hundreds of pheni makers from the cities of South Punjab, such as Rahim Yar Khan, Bhawalpur, Bahawalnagar, Rajanpur, Multan and Lodhran, began their journey to Karachi after 15th Shaban where they will stay till the end of Ramazan. They have set up shops in Liaquatabad, Ranchor Line, Burns Road, Orangi Town and many other areas of the city.

The experts who prepare them say that the items require hard work and patience. They can be stored at room temperatures for up to six months given, they add, that the appropriate quantity of each ingredient is used and specific methods are followed properly in its production.

Ramazan to begin from Tuesday as moon not sighted in Pakistan

Preparation process

The two delicacies are made with flour, ghee, salt and water. The dough is prepared by kneading flour and water which is then set aside. In the case of Khajla, the dough is flattened into a thin sheet and a paste of ghee and cornflour is applied to it. It is then rolled into a Swiss roll and cut into multiple pieces. Each piece is then made into a roti and then deep fried in a wok till golden brown.

For phenni, the dough is divided into balls and each one is rolled into strands. These strands are rolled until they become very thin. Then these too are deep fried till golden brown.

The food items are packed into baskets weighing 30 to 35kg and sent to the markets where they are sold to customers at different rates.
Khajla and pheni can be bought at the rate of around Rs50 rupees per 250 grammes and Rs200 per kg in the old areas of the city. In some areas, its rates are fixed at Rs250 to Rs300 per kg.

Khajla and pheni made with desi ghee are also available at many shops and it's more expensive than the khajla and pheni which is made in processed ghee. They are sold for Rs450 to Rs500 per kg.
COMMENTS
Comments are moderated and generally will be posted if they are on-topic and not abusive.
For more information, please see our Comments FAQ