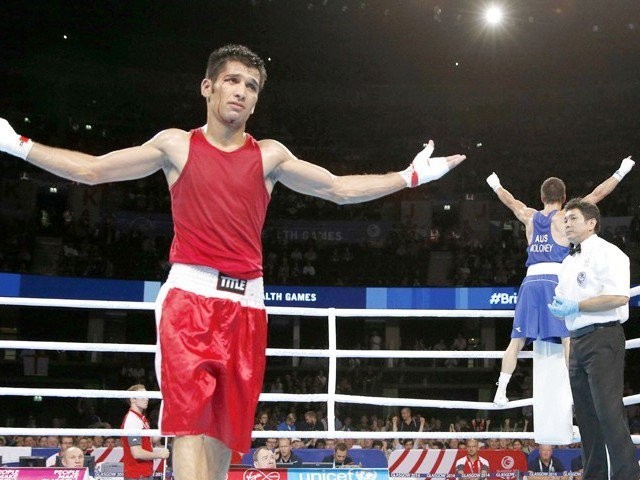 ---
KARACHI: Pakistan's only pugilist to become the World Boxing Council champion Muhammad Waseem is looking forward for a comeback on June 22, while he believes his rematch from the last bout will not take place.

The 2014 Asian Games bronze medallist had turned to professional boxing in 2015 after suffering through the apathy and lack of organisational skill of the Pakistan Boxing Federation (PBF) and made an impeccable career with nine bouts so far, having won eight out of them with five knock-outs and lost only one, which was his last fight in July last year.

He had lost to South Africa's Moruti Mthalane in Kuala Lumpur, while going through rough times with his former manager. The lack of sponsors from Pakistan had also greatly discouraged him from continuing but Waseem soldiered on.

This year he signed a contract with MTK management that finally set his career path back to chasing his goal of becoming the world champion.

He is training in Glasgow with MTK's help, while making sure that he gets a bout next month and wins it too.

"It has been a lot of time but I'm ready," the former WBC silver champion in flyweight category told The Express Tribune. "I want to show the world who I am, and I'm not leaving this without a world title."

Waseem is still ranked among the top 10 boxers according to the May 1 list of WBC and he is ranked on 14th place with International Boxing Federation (IBF) list, despite the gap.

However, the 31-year-old is undeterred and he is taking the situation as a challenge.

"I'm finally out of Pakistan and training, and that means I have opportunity," said Waseem. "I'm working hard here in the UK, I'm seeing so many talented boxers from all over the world, MTK has many with them, so this is helping me."

Waseem had to spend time in Pakistan, but without any facilities, or sponsors or even sparring partners who could help him improve his form.

He said that after training for more than a month in Glasgow, he is getting back on the track with at least four-and-a-half hours of training.

"I needed better sparring partners. I needed this momentum in my career and it is all about becoming the best boxer that I can. I don't know yet who will I fight, but I know the date and my eyes are set on it. I'm still among the top 10 boxers in the world, I can't lose hope, I can't be complacent," said Waseem.

He said that training in the US had been different from the one in the UK. He had earlier trained with Jeff Mayweather at Floyd Mayweather's boxing gym.

"The weather really helps here, it is cooler, but I'm learning better techniques. I'm improving with the help of professional coaches, so I'm satisfied. All I want to do is give my all at this point," said Waseem.

But his training will be getting harder as the holy month of Ramadan is approaching.

"I train in Ramadan too, but of course the timings change, it is not an excuse to be lazy," said Waseem. "I have to train because after Ramadan there would be roughly two weeks left for my bout, so I need to keep myself in my form and get the best results. I want to have at least 100 rounds of sparring before that."

Meanwhile, he said that looking back at the journey from becoming the WBC champion in Flyweight to losing the IBF world title, he finds himself disappointed at times.

"It's just that people respect us boxers, the Pakistani athletes, much more here," said Waseem. "I'm not bitter, but the truth is the people abroad respect us more, put more effort into us and they celebrate us more. In Pakistan we keep looking for the federations or the governments or the sponsors to come forward and help us. I look back at my hometown, Quetta, there is nothing over there, and the chief minister of the province is more encouraging of cricket. They just forget that there are other sports and great athletes in the country; even better than me."

He continued: "But no one asks about boxing. What did the country give to its athletes? What is there for our younger generation of boxers to look forward to?"

But Waseem knows his heart belongs to Pakistan. "I'm a Pakistani. I want to represent Pakistan with my name. It is my motherland after all. The factor that we are not treated well is depressing but I tell myself that there is a title to win. This keeps me going. But I'm lucky to have gotten a platform now with this new management."

Waseem said that his re-match with Mthalane may not take place at all, but he wanted to have a chance.

"I don't think that would happen, but if it would I would know I'll win," said the 2014 Commonwealth medallist.

He also had a message for his friend and Pakistan's 2018 Commonwealth Games gold medallist Muhammad Inam, who is struggling to get to the World Beach Wrestling series and had missed out on the Asian Championship last month that dimmed the chances for Olympic qualification for Pakistan. Waseem said that Inam should be supported by the government for his goals.

"I got out because I saw no hope. It makes me so happy that he is getting better exposure in the news. No one asked me anything when I got the Pride of Performance award, but people are noticing Inam, and the government should step forward. They just can't leave their athletes like this," said Waseem also known as Falcon in the ring.

"He revealed that if he had not switched from amateur boxing to professional, he would have ended his career while being in Pakistan. He had to give up on his Olympic dream too.

"When I was in Pakistan, still fighting for the country, with PBF, these people would tell me to retire. They told me that I have got no boxing left in me. They would discourage me, tell me to leave, that my time was over. I had no choice but to switch and I don't regret it. Now my dream has changed, it is bigger," concluded the 2010 World Combat Games gold medallist. "I'm a professional boxer now; I just want the world title."
COMMENTS
Comments are moderated and generally will be posted if they are on-topic and not abusive.
For more information, please see our Comments FAQ