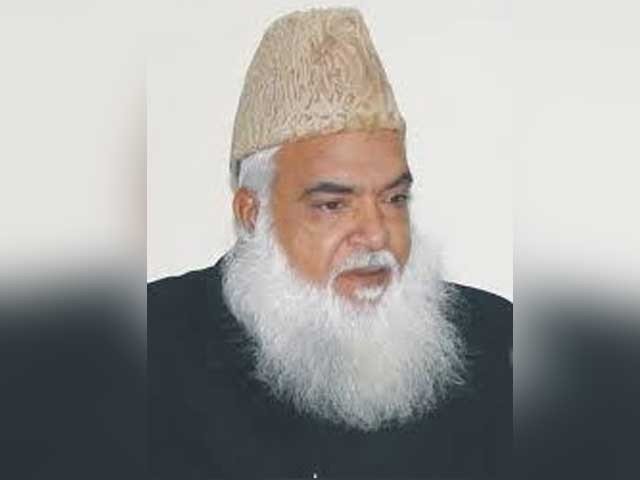 ---
LAHORE:

Pir Afzal Qadri, the patron-in-chief of Tehreek-e-Labbaik Pakistan (TLP), has retired from the party and also issued an apology for provocative remarks he passed after the Supreme Court exonerated Aasia Bibi of false blasphemy charges.

Qadri issued the apology and announced his retirement decision in a statement issued on Tuesday, which came along with a video of him reading out the text.

"I am a patient of cardiac disease, paralysis, kidney disease, high blood sugar, and high blood pressure. When the Supreme Court announced its verdict in the Asia Masih case, my religious sentiments were hurt and I delivered a speech. I am extremely sorry for hurting the sentiments of the government, the judiciary and the chief of army staff," said Qadri.

The incarcerated religious leader said he had decided to retire last year and had even informed his friends and family. "I am announcing the decision now because my health has deteriorated further."

Back-door talks: TLP's Rizvi, Qadri may be released soon

He urged TLP leaders and workers to operate in line with Pakistan's laws and refrain from aggression. "Everyone must remain peaceful and stay away from activities against the integrity of the state. There will be no tolerance for acts of vandalism, arson, and destruction of public and private properties. Terrorism, murder and killings, societal discord and sectarian violence must be opposed and discouraged."

Asserting that the TLP and its workers would always stand in support of the Pakistan Army, he said "all institutions, the law, and the Constitution of Pakistan will be honoured".

Qadri also used the opportunity to distance the TLP from the murder of Bahawalpur university professor, who was killed by a student found to be linked to a leader of the religio-political party.

Qadri, along with TLP chief Khadim Hussain Rizvi, was taken into 'protective custody' on November 23 last year as a crackdown was initiated against the party's activists and leaders in all major cities of Pakistan.

Booked under sedition and terrorism charges, he and Rizvi are on judicial remand as the Lahore High Court hears their plea for bail.

In February this year, there were reports that Qadri and Rizvi were expected to be released soon after successful back-door talks with the government.

It was said that the federal government, after being assured that the TLP will accept the SC verdict on Aasia Bibi, was contemplating the release of the two religio-political leaders.

Sources privy to the development claimed the TLP leaders had agreed to the arrangement after seeing the lackluster response from party workers over their arrests.

It was reported that under the agreement with the Pakistan Tehreek-e-Insaf-led federal government, the TLP would be bound to conduct their operations peacefully. In addition, Rizvi and Qadri would be barred from issuing any edicts or statements branding people 'Wajibul Qatl' or 'Kafir' over religious differences.