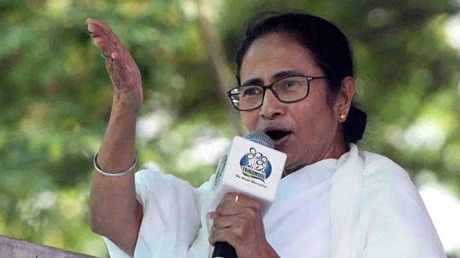 ---
Indian Bengal Chief Minister Mamata Banerjee has made a startling claim on Sunday against Prime Minister Narendra Modi, saying he does not respect his mother and wife.

"How can you, who has not shown any respect to your own mother and your wife, teach us how to respect our country? A prime minster like this can never be trusted with the country," Banerjee said at an election rally at Heria in East Midnapore district, reported Hindustan Times.

"The prime minister's speeches are instigating, the language is shameful," she lamented.

The Trinamool Congress chief appeared agitated and referred to Modi-led BJP leaders as liars and hooligans. "They are using religious propaganda to divert your attention from crucial issues. If this is how elections are to be held, let there be no election at all. Let us all fight over religion," she said.

Mamata Banerjee fires broadside at 'liar' Modi for making false promises


The United Nations human rights chief on March 7 had warned India about the growing communal violence in the country.




"We are receiving reports that indicate increasing harassment and targeting of minorities - in particular, Muslims and people from historically disadvantaged and marginalised groups, such as Dalits and Adivasis," Michelle Bachelet said in her annual report to the UN Human Rights Council in Geneva.




Right-wing Modi has used anti-Pakistan rhetoric to give boost to his falling popularity in the on-going Indian general elections with many polls suggested, Pulwama incident in occupied Kashmir spiked the popularity of BJP.



COMMENTS
Comments are moderated and generally will be posted if they are on-topic and not abusive.
For more information, please see our Comments FAQ