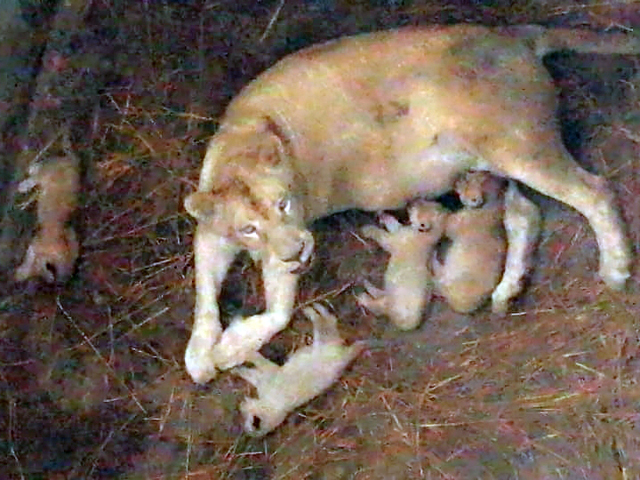 ---
LAHORE: Lahore Safari Park welcomed five new additions after two lionesses gave birth on Wednesday. A white lioness gave birth to four cubs, two of which are white while the remaining two are brown. Meanwhile, an African lioness also gave birth at the zoo.

With the new additions, Lahore Safari Park now boasts a population of 37 African lions. However, this is the first time that a white lioness has given birth at the zoo.

Speaking to Express News, Lahore Safari Park Deputy Director Chaudhry Shafat Ali said that this is the first time that a white lioness and a brown lion have been mated at the zoo resulting in two white and two brown cubs.

18 big cats welcomed at Lahore's zoos

Further, an African lioness has also given birth to a cub, he said. "All five of the cubs are healthy and thriving," he said. He explained that white lions are not specific species unto their own. The colour is a result of a genetic anomaly, he said.

A veterinary doctor stated that the white colour of a lion is a result of genetics, similar to how a child's skin tone may differ from that of his parent's. The cubs will be transferred to an open cage within the next few days after which citizens visiting the zoo will be able to catch a glimpse of the baby lions.

It was also highlighted that the four lions, gifted to Pakistan by The United Arab Emirates (UAE), were being quarantined and are being given special care.


COMMENTS
Comments are moderated and generally will be posted if they are on-topic and not abusive.
For more information, please see our Comments FAQ