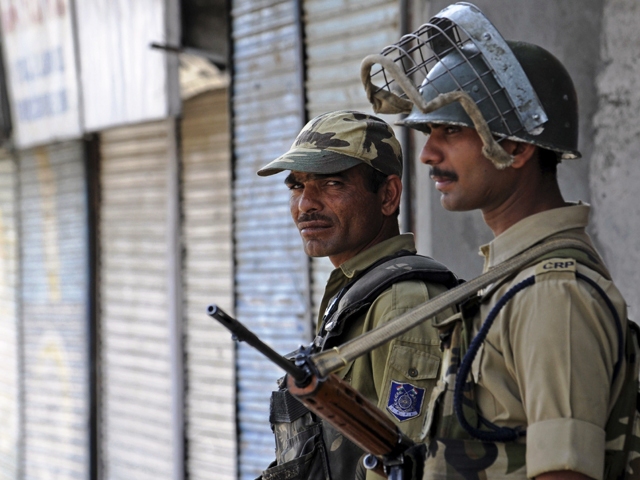 ---
Indian forces booked two more Kashmiri youths on Tuesday under the draconian Public Safety Law in Islamabad district of Indian Occupied Kashmir (IoK), Radio Pakistan reported.

The troops shifted the two Kashmiris, Mohammad Yousuf Chopan and Suhail Salam Sheikh, to Kot Bhalwal Jail in IoK.

According to the family members of the detainees, the two were innocent and booked under false charges.

Govt condemns Yasin Malik's 'illegal' detention by New Delhi

Meanwhile, an anti-corruption court in Srinagar sentenced Deputy Commissioner Kupwara Shah Lateef to one year in prison in a case registered against him in 2004.

Pakistan, on Monday, condemned the continued incarceration of Jammu and Kashmir Liberation Front (JKLF) Chairman Yasin Malik on trumped up charges, despite his deteriorating health.

Malik was taken into custody by Indian forces under the draconian Public Safety Law. Despite his worsening health, he was shifted to the notorious Tihar jail.

The Foreign Office said his family has not even been allowed to meet him at the correctional facility.

Pakistan will continue supporting the Kashmir cause: Fawad

"Given the previous history of the Indian government's mistreatment and violation of human rights of Kashmiri leaders, frequently subjecting them to torture and imprisoning them under fabricated charges due to their political beliefs, the apprehensions of Malik's family members and Kashmiris about his safety and health are justified," it said in a statement on Monday.

Islamabad said his incarceration was a part of the steps being taken by New Delhi to intensify the oppression of the Kashmiri people in their struggle for self-determination.

The Public Safety Act, the statement added, was in violation of fundamental rights which granted impunity to Indian forces to arrest and kill innocent Kashmiris.




COMMENTS
Comments are moderated and generally will be posted if they are on-topic and not abusive.
For more information, please see our Comments FAQ