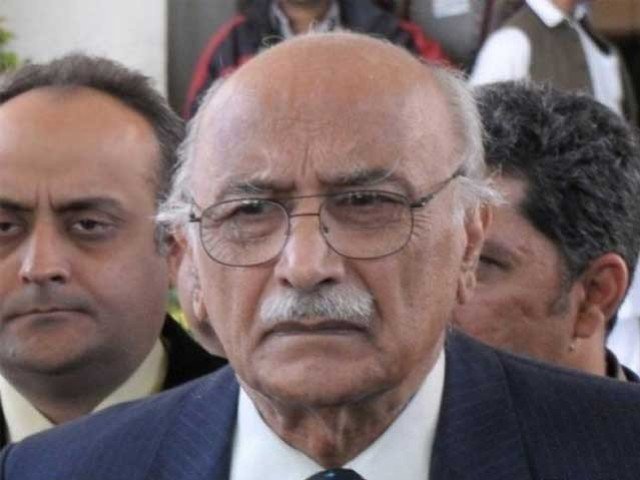 ---
ISLAMABAD: The top court has again rejected the Federal Investigation Agency (FIA)'s plea to close proceedings in the Asghar Khan case wherein civil and military authorities were directed to initiate action against those individuals who were involved in the rigging of the 1990 elections.

The three-judge bench, headed by Justice Sheikh Azmat Saeed, has also noted that the defence ministry's report about the implementation of the court verdict in the Asghar Khan case is incomplete.

The bench asked the ministry to file a fresh report about the matter within four weeks.

Justice Saeed observed that the court would try to implement its judgement in the Asghar Khan case.

Asghar Khan case could not proceed due to lack of evidence, FIA tells SC again

Likewise, the FIA has also been asked to furnish all the statements/affidavits of individuals in this matter.

The FIA in its report stated that the inquiry committee interviewed journalists namely Habib Akram and Mujeebur Rehman Shami, other key witnesses Brig (retd) Hamid Saeed Akhtar and Advocate Yousaf Memon, besides conducting scrutiny of the cover accounts. It reached the conclusion that no sufficient evidence could be found to enable this case for further prosecution and trial in the court of law, says the report.

It is also stated that the FIA also contacted the banks but none of them provided the requisite information about the accounts to the inquiry committee initially; therefore, the said committee travelled to Karachi and met with the senior representatives of the banks.

Regarding Brig (retd) Hamid Saeed, the FIA stated that he was Military Intelligence Commander in Sindh in 1990 and was approached by Maj General Asad Durani and Aslam Beg to deliver money to certain politicians.

For this purpose, he opened six accounts in various bank branches in Karachi. Money was received in these accounts from GHQ Rawalpindi as per his perception along with instructions about their distribution.

A total of Rs140 million was received in these six accounts. These accounts were personally being operated by him and his second in command Ali Akbar. Even he sent undisbursed amount back to GHQ and handling officer Col Eqbal Saeed alias Bala (Usama bin Laden Fame now in USA).

Saeed said he does not have any information about the disbursement of money sent back to GHQ.

However, he said that General Durani remarked that the money would be used for a cause "that is close to our hearts".

Hamid Saeed also stated that Durani personally supervised the operations. He also alluded to certain political ambitions of Aslam Beg and his collusion with MQM in this respect.

He stated that Younas Habib also distributed funds directly to politicians in order to influence and to further his own business and commercial interests.

On asking about leakage of news of his operation to the press, Hamid Saeed said that that was done by Younis Habib himself. As there was a big hole in the accounts of Habib Bank, Younis Habib was encasing foreign currency deposited in the foreign currency accounts by individuals.

In this respect, cheques bounced and even ISI cheques were not honoured. Younas Habib leaked this news to ease the pressure of agencies on himself, says the FIA in its report.