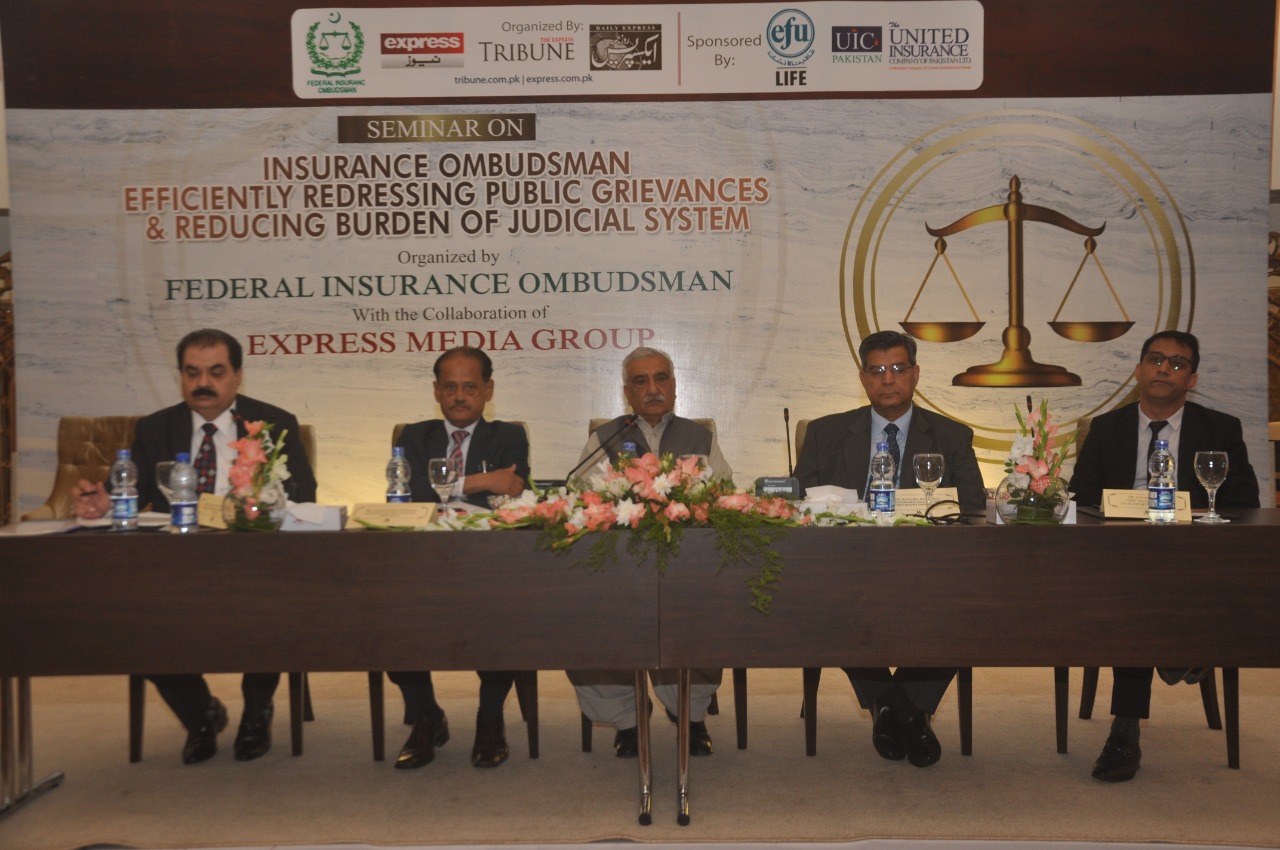 ---
ISLAMABAD: Highlighting the importance of insurance for a secure future, Federal Secretary for Law and Justice Justice (retired) Abdul Shakoor Paracha has said that it was imperative to create awareness among people regarding the rules of insurance so that they can easily get their claims.

The federal secretary expressed these thoughts while addressing a seminar on the effective role of the insurance ombudsman as a source for cutting down the burden of the legal system, organised by the federal insurance ombudsman and Express Media Group with the support of United Insurance Company of Pakistan and EFU Life.

There are laws in the country but we need to ensure their implementation. In order to resolve issues surrounding insurance, the citizens should approach the federal ombudsman, Justice Paracha said.

Health insurance coverage for entire country by 2020

Federal Insurance Ombudsman Raisuddin Paracha, the chief manager and legal department head of EFU Life Sajid Hussain Khan and United Insurance Company of Pakistan CEO Muhammad Rahat Sadiq were also present.

Speaking at the occasion, the federal insurance ombudsman maintained that the judicial system of the country was facing a large number of pending cases because of low number of courts and judges and social implications of court cases. "We must improvise on our traditional court system as per expectations of our people. The country currently has 13 functional ombudsman offices," he stressed.

He said that the department had resolved around 1,200 complaints in the ongoing fiscal year. He added that the government should take steps to capitalise on such opportunities and should have mandatory insurance for factory workers, labourers, passengers travelling in buses and trains and citizens at high-risk of terrorism and traffic accidents.

PM to inaugurate health insurance programme

Meanwhile, EFU's Hussain Khan stressed on the significance of the insurance providers and lamented that Pakistan, with only 0.18 percent of its GDP in the insurance sector, lagged behind not only the region but the entire world.

The government must take steps to boost the insurance industry, he said, adding that EFU settled 9,547 of the 9,917 claims it received during the year 2017. In 2018, the company settled 12,881 claims from a total of 13,286 claims, rejecting only three percent of the claims filed, he added.

Advocating improvement in the insurance sector, he further said that the government has imposed 16 per cent sales tax on the insurance products which was too much to be paid for by the consumers.
COMMENTS
Comments are moderated and generally will be posted if they are on-topic and not abusive.
For more information, please see our Comments FAQ