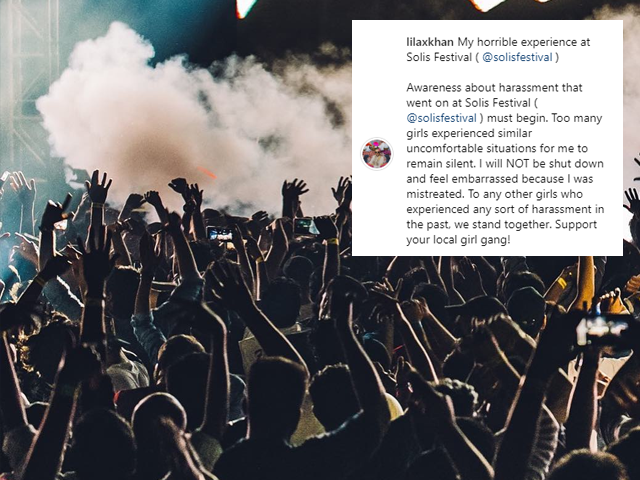 ---
International artists such as Burak Yeter, Mike Williams, Zonderling and FDVM participated in the recently held Solis Music Art Festival in Lahore.

While the event was a success in terms of quality performances, it did not bode well for the women in the audience. Lila Khan, one of the attendees of the festival took to social media to share her horrific story of harassment that started at the security check and didn't end there.

In an Instagram live session, Khan shared how she was dragged and groped by a mob in the crowd.

"I was pretty excited for this," she started her account, "When we entered (I was with a lot of male friends), I noticed there were a lot of guys and that wasn't unusual or a problem. They were staring, but that was a common occurrence, so it didn't bother me."

However, things changed for the worse as soon as she entered the crowd.

"People kept on touching me and I had friends who were dealing with it," Khan continued. "I was with my sister. And towards the end, I was in the crowd (near the stage); an incident happened that was really scary. It felt like a matter of life and death. A security guard grabbed me aggressively (physically and sexually). I told my friend about it. When he came to inquire, the same guard pretended to be asking if everything was okay."

Khan shared she called the guard out and told her friend it was the same guy who 'molested her'. The guard then asked her and the friend to move to one side. That's when Khan felt multiple hands grabbing her from the crowd.

"I felt like it was all planned. My sister at the back of the crowd was dealing with a similar situation. When she noticed it was me who was in the crowd, fighting, she came running in," added Khan. "It was a mob attack. There were a lot of people and it was clear their intention was more than just touching and feeling the girls."

She went on, "I put my head down, and I put my arm out and hit everyone I possibly could. I ran at full speed just to get out of the crowd. It seemed like it was never-ending. It seemed like I was stuck in one place. It seemed like I was so vulnerable and there was nothing I could do."

Once out of the crowd, Khan said she felt disgusted about the whole situation.

"I instantly threw up. I felt so disgusted with the people who did it and with myself. I'm so embarrassed. My friends tried to tell other security guards, they said there was nothing they could do. They told us that you have to talk to the heads about it."

She went on, "I don't want to feel embarrassed about it even though I do and it sucks. I don't want [harassment, sexual assault] to be such a normal thing. It's been three days since it happened; it already feels like it's my fault, I already feel like it's a normal thing, which is so sad. I don't want it to feel like that. I want other girls to be careful and know that it does happen and that they're not alone."

The organisers of the event took to Instagram and apologised for the complaints they have received.

"We've received a number of messages concerning the security of Solis Lahore. Our goal is to bring an international experience to Pakistan's finest cities. The general safety of our guests is an important part of this experience. We have been in contact with the company hire to manage the security of the event and are awaiting a statement addressing the matter," the organisers shared.

SSB bouncers Pakistan, the company responsible for providing security at the festival has also issued an apology and promised to take strict actions against the staffers who are involved in this incident.

Have something to add to the story? Share it in the comments below.