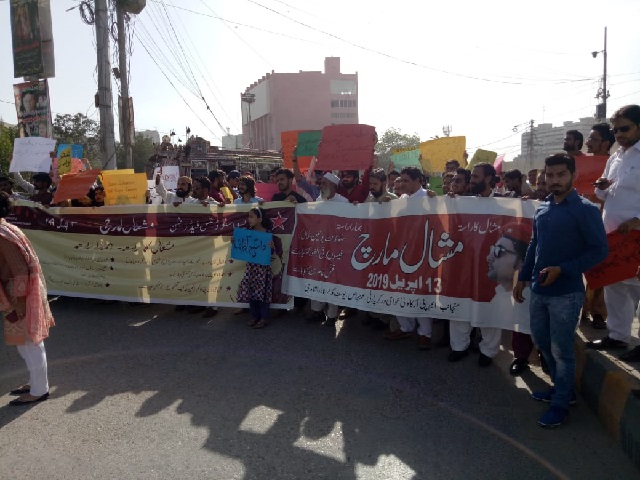 ---
KARACHI: "You can kill a man but you can't kill an idea", the famous words of African-American civil rights activist Medgar Evers resonated in the hearts and minds of students and civil society members who came out for "Mashal March" on Saturday.

A march was organised from Arts Council till Karachi Press Club on the second death anniversary of slain student Mashal Khan.

Mashal was lynched to death in Mardan, Khyber-Pakhtunkhwa on April 13, 2017.




The 23-year-old journalism student at the Abdul Wali Khan University was accused of blasphemy, an allegation which later proved to be false.

Organiser Waqas Aalam Angaria said the march was arranged to remember the life of Mashal. "We need to remember Mashal every day to understand how fanaticism can be used for political purposes and shut down critical voices," he told The Express Tribune.

He called for restoration of student unions at varsities."Students should organise and campaign for their rights to stop such incidents," he said.


#MashalMarch Charter of Demands pic.twitter.com/AVKj6AHSIh

— PRSF - Karachi (@PrsfK) April 12, 2019


The participants condemned the recent killing of Bahawalpur Professor Hamid Khalid at the hands of his third-year student for arranging a mix gender 'welcome party' at the Government Sadiq Egerton College.

Muhammad Ammar Abbasi, a third-year student of political science at the University of Karachi, said he joined the march to protest against the rise in religious fanaticism and discrimination at educational institutions. "We are present here to condemn such attacks and raise our voice for self-awareness and rights at universities," he said.


Demonstrators also demanded a five per cent increase in the national education budget and an enabling environment for everyone to combat fanaticism at educational spaces.

"We organised this march to commemorate Mashal's death anniversary and remember the values that he stood for, his intellectual outlook towards life for which he was murdered," another organiser Zahabia Khozema, a student at the Indus Valley School of Art and Architecture, said.