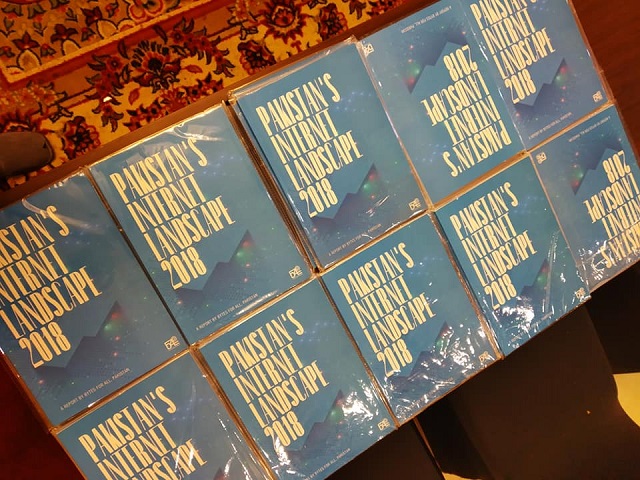 ---
A report highlighting latest trends in the Pakistani digital space was launched in Karachi on Friday.

The Pakistan Internet Landscape Report 2018, authored by journalist Jahanzaib Haque, was published by human rights and advocacy organisation Bytes For All.


Pakistan's Internet Landscape 2018 - Annual publication by Bytes For All #Pakistan - Launching soon. Please stay tuned @bytesforall pic.twitter.com/E0dGAjyP4n

— Bytes for All, PK (@bytesforall) March 11, 2019


The findings of the report shed light on key topics including internet access, censorship and privacy, cybercrime and hacking, child porn, blasphemy, fake news, and e-commerce, among others.


#Pakistan's Internet Landscape 2018: @AishaFSarwari @marvisirmed @ZarrarKhuhro @jhaque_ on the Expert panel. pic.twitter.com/UkULYrKIqr

— Bytes for All, PK (@bytesforall) April 12, 2019


According to statement, the annual report notes that online developments across 2018 have seen a number of downward trends, with attempts to control the internet proving to be most troubling.

Following are the report's key findings:

-Overall internet penetration continues to increase. A total of 62 million 3G/4G subscribers now form 29.55% of penetration


-Cellular network suspensions have continued in the name of security


-The state has made some effort to improve governance through the internet with particular strides by law enforcement agencies

-Some strides were made to curb child pornography, with awareness raised and an increasing number of arrests carried out

-Surveillance of activists and journalists continues, resulting in intimidation and harassment

-Traditional media and associated journalists have found themselves to be the targets of intimidation, harassment, violence and even monetary losses, resulting in self-censorship across all media, including online


- Fake news is an ever-growing challenge in the country
COMMENTS
Comments are moderated and generally will be posted if they are on-topic and not abusive.
For more information, please see our Comments FAQ