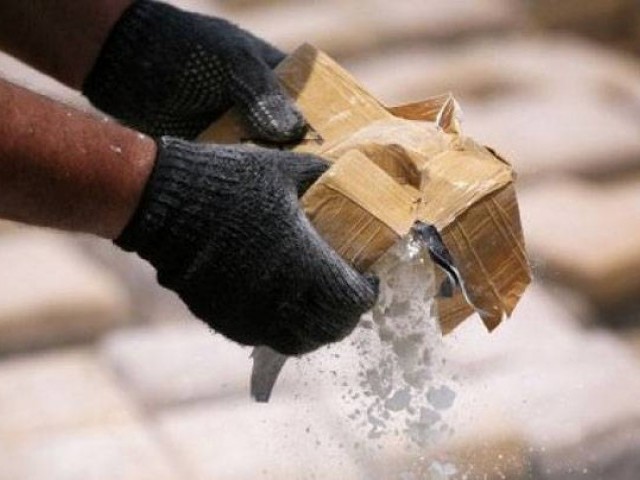 ---
A report by the Public Health Association Khyber Pakhtunkhwa (K-P) estimated at least 10.9 per cent of the north-western province's population has used an illicit substance in the past year alone.

These drugs include the abuse of prescribed medication.

"The highest prevalence of opiate users was found in Balochistan - where 1.6 per cent of the population uses either heroin, opium, or both," said the report.

The report suggests that the increased availability of drugs is due to Pakistan's status as a transit country facilitating Afghanistan – a major opium producer in the world.

"Peshawar is particularly affected by the narcotics surge from neighbouring Afghanistan," it added.

Drug addiction: K-P govt to introduce strong legislation against drugs

"Pakistan is geographically vulnerable to drug trafficking due to its borders with Afghanistan, the world's largest producer of illicit opium," reads a report by the United Nations.

"In 2016-17, Pakistan seized a total of 2,860 metric tons of different types of narcotics drugs. The figure is expected to rise in view of the phenomenal increase in poppy cultivation this year in Afghanistan, a development which poses enhanced interdiction challenges for Pakistan's law enforcement agencies."

Pakistan is an active member of the UN Commission on Narcotics Drugs (CND).

A 2013 national survey on "Drug use in Pakistan" by the UN Office of Drugs and Crime, found 4.25 million people considered to be dependent on substances and required structured treatment for their drug use disorder 2.

It showed cannabis amongst the most commonly used drugs with around four million users nationwide.

"Around 860,000 people used heroin regularly, approximately 19,000 people reported they had used methamphetamine and nearly 1.6 million people reported misuse of prescription opioids (painkillers) for non-medical use."

Recently, the use of methamphetamine, commonly known as meth or ice, became a scourge in the province, prompting K-P government and police to deliberate on measures to control the spread of the stimulating drug.

In February, Chief Minister Mahmood Khan inaugurated a rehabilitation centre catering to meth users in Peshawar. The facility offers free diagnosis, treatment along with free boarding, lodging, food and clothing to substance abuse victims who check in for treatment of their addiction.

Another welfare centre in Swat, Naway Jond (New Life) treats drug addicts and underage criminals through unique therapies.
COMMENTS
Comments are moderated and generally will be posted if they are on-topic and not abusive.
For more information, please see our Comments FAQ