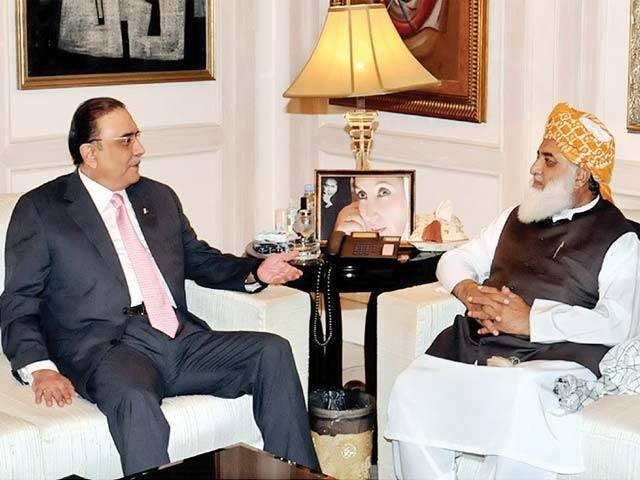 ---
ISLAMABAD: A day after meeting the Pakistan Muslim League-Nawaz's (PML-N) leader Nawaz Sharif, Jamiat Ulema-e-Islam (JUI-F) chief Fazlur Rehman on Wednesday held consultations with the Pakistan Peoples Party (PPP) supremo Asif Ali Zardari, who later said days of the federal government are numbered.

"There is unanimity [of view] on removing the selected government [of the Pakistan Tehreek-e-Insaf]," Fazl said while talking to media after the meeting. He, however, said the meeting was a 'part of the routine', quipping that no one could surprise media.

Fazl also downplayed his Tuesday interaction with Nawaz and said he only inquired after the former premier's health and the meeting had no other agenda. Nawaz Sharif, who is serving jail term in Kot Lakhpat prison, was released on March 26 for six weeks in view of his ailment.

Speaking on the occasion, Zardari said if the current rulers were not removed, the country would face an irreversible economic loss. "Come what may, Captaan [Prime Minister Imran Khan] will have to go," the former president added.

A day earlier, Fazlur Rehman had hinted at playing a mediatory role between former PM Nawaz Sharif and former president Asfi Ali Zardari in a bid to unite the opposition against the government.

According to sources, Fazl and Nawaz in their Tuesday meeting had exchanged thoughts on the political situation, the National Accountability Bureau (NAB) cases against opposition members and the strategy for launching an anti-government movement.

Speaking to reporters after that meeting, the JUI-F chief had said "opposition parties must be united". He had said the opposition parties are on the same page that the general elections last year were rigged.

"The country's troubles would grow worse if it continues to be governed by those who are unaware of its ideology and economy," Fazl had remarked.

He had maintained that there was no difference of opinion among opposition parties as to what was needed to be done, but the strategy was yet to be decided. "NAB is being used to pursue a political vendetta. There are forces behind the scenes that keep the government afloat," he had said.


COMMENTS
Comments are moderated and generally will be posted if they are on-topic and not abusive.
For more information, please see our Comments FAQ