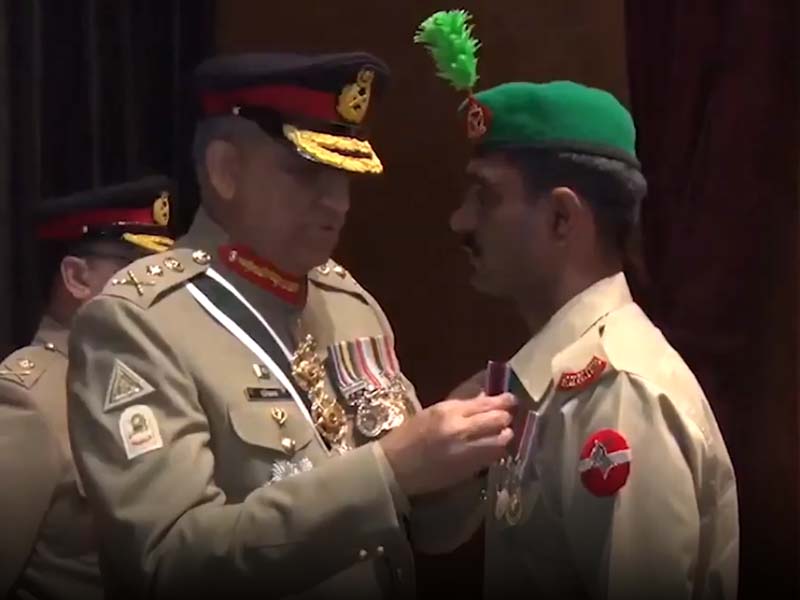 ---
ISLAMABAD: Chief of Army Staff General Qamar Javed Bajwa on Wednesday said Pakistan owes its peace and stability to the 'selfless devotion and sacrifices of officers and soldiers', who, he said, are the 'real heroes'.

He made these remarks during the investiture ceremony held at the General Headquarters (GHQ) in Rawalpindi. According to the Inter-Services Public Relations (ISPR), the army chief conferred military awards to army personnel for acts of gallantry during various operations.


A group of international media journalists mostly India based and Ambassadors & Defence Attachés of various countries in Pakistan visited impact site of 26 February Indian air violation near Jabba, Balakot. Saw the ground realities anti to Indian claims for themselves. pic.twitter.com/XsONflGGVP

— DG ISPR (@OfficialDGISPR) April 10, 2019


"Families of Shuhada/Ghazis also attended the ceremony. 35 officers were awarded Sitara-i-Imtiaz (military), 36 officers/soldiers were awarded Tamgha-e-Bisalat and 7 soldiers were awarded United Nations Medal. Medals of Shuhada were received by their family members," the ISPR added.

Paying rich tribute to Shaheeds and Ghazis, General Qamar said 'we' owe peace and stability to the selfless devotion and sacrifices of these officers and soldiers who are real heroes.

"There is no cause more noble than laying down one's life for defence of motherland and the sacrifices of our martyrs won't go waste," he said. The army chief also lauded 'brave' families of the martyrs for supreme sacrifices they rendered for the country.

Meanwhile, Foreign Minister Shah Mahmood Qureshi chaired fourth meeting of the Advisory Council on Foreign Affairs at the Ministry of Foreign Affairs to discussed recent developments and key issues in the foreign policy domain. In his remarks, the foreign minister outlined Pakistan's active engagements with the international community along bilateral and multilateral tracks.

In this regard, he referred to recently held strategic dialogues with the European Union (EU), China and his participation in the Organisation of Islamic Cooperation's (OIC) ministerial meeting in Istanbul.

Qureshi emphasised that Pakistan remains committed to peace in the region. He reiterated Pakistan's support to efforts for achieving enduring peace and stability in Afghanistan and underlined that Pakistan has repeatedly called for de-escalation with India.

The council members also discussed measures to facilitate overseas Pakistanis, training of diplomats and ways to make economic diplomacy more effective. The foreign minister appreciated contribution of the council members in these areas.

He told the council that the government attaches high importance to facilitation of overseas diaspora by Pakistan's missions abroad and would continue to further build on existing facilitation mechanisms.

PM's Adviser on Commerce Abdul Razak Dawood also participated in the meeting. The next meeting of the council will be held in May.
COMMENTS
Comments are moderated and generally will be posted if they are on-topic and not abusive.
For more information, please see our Comments FAQ