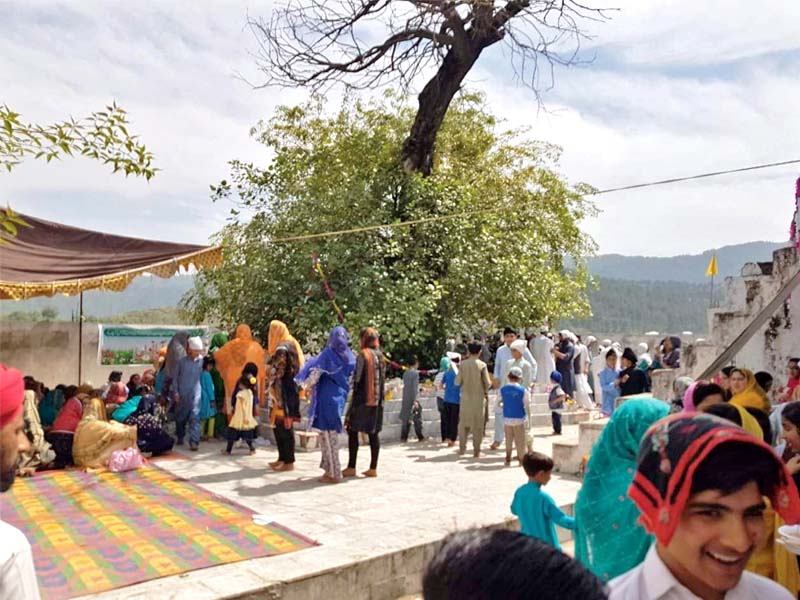 ---
PESHAWAR: Spring is a time of joy for everyone, especially the Hindu and Sikh communities of Khyber-Pakhtunkhwa, but nowhere more than Khyber District, where both minority communities celebrated the 'Nau Asud' festival.

Tirah Valley, once home to the largest communities of Sikhs and Hindus in Khyber Agency, has seen hundreds of families migrate to Peshawar and Punjab in search of better job opportunities and security, but despite the military operations in the tribal region, many still stayed in their ancestral homes.

Beside Peshawar and Khyber tribal district, Buner is also home to large Hindu and Sikh communities, many of whom are concentrated in an area named for the Hindu saint Pai Pana Sahib, where they have a history of over 200 years.

Pai Pana Sahib is only around 10 kilometres from the main Buner Bazaar, but due to the terrain, it takes hours to reach the area. Despite claims of the provincial government about caring for minorities, there is still not a proper paved road to access the spiritually significant area.




History

Pai Pana Sahib is at least 200 years old, but the scenic religious site is still waiting to be discovered by the provincial government. Although it is primarily a Hindu religious site, it holds significance for Sikhs as well. Thousands of Hindus and Sikhs pour into the area to take part in the festival.

Hindus from Punjab, Sindh, and Balochistan also visit the area, and locals are known to offer them milk or water during their stay in the district.

Local community leader Gurcharan Lal told The Express Tribune that the festival is meant to welcome the new season and offer special prayers.

"Hindus celebrate Nau Asud after sighting the new moon and with the arrival of a new season. It is akin to Nowruz. Men and women offer special prayers for peace and prosperity for the country and the community," said Sardar Gorpal Singh, a leading figure in the Sikh community in Khyber tribal district.

Local issues

Despite various claims of the provincial government to have allocated handsome budgets for Malakand Division, the area where the festival is taking place still lacks modern facilities such as roads, water, and accessible transport despite being a heritage site, Gorpal stated.

There is also no signboard nearby to indicate the location of Pai Pana.

"Last year the district administration provided security and also arranged transportation to the festival, but there are still no road indicators or signs to guide travellers and visitors here from the main road.

Sardar Sarethak Singh said Sikhs of the area had brotherly ties with Hindus and they regularly attend each other's festivals. "We also welcome our Muslim brothers and they make it a point to join us in our celebrations."

"We always welcome people from across cultures and communities. We want to give a message of peace to the world – we are the same, just with different religious," Gorpal Singh told The Express Tribune.

Published in The Express Tribune, April 10th, 2019.