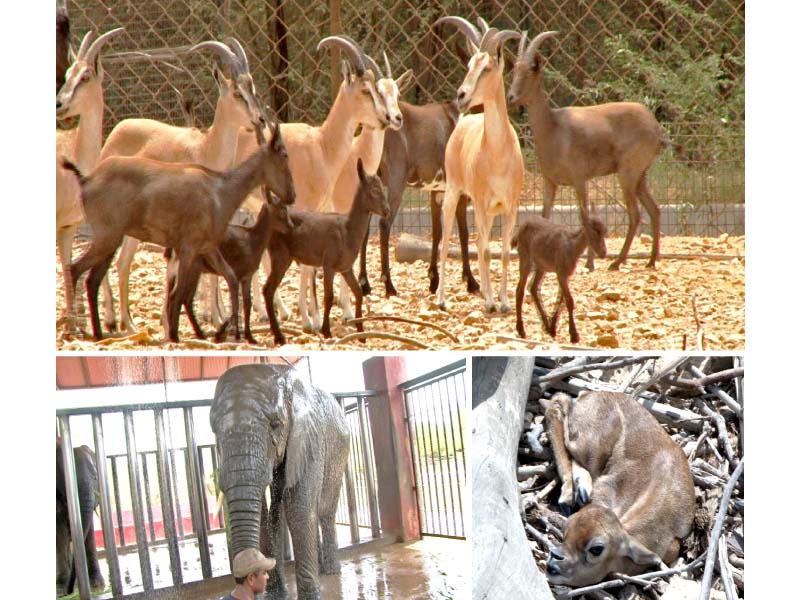 ---
KARACHI: With the onset of summer in the city, Safari Park has taken extra measures to ensure its elephants, and other animals, can beat the heat. The park administration has installed four showers inside the enclosures of Malika and Sonu, the elephant pair, to keep them safe from the rising temperatures. Gulshan-e-Iqbal's Safari Park has also seen an increase in its number of animals after the birth of nine fawns and markhors in the past one and a half month.

Special measures are being taken to ensure the animals are not adversely affected by the heat. Malika and Sonu now have the facility to take three to four showers daily from 11am to 4pm. Safari Park Director Kunwar Ayub said that the elephants have been enjoying their new showers. The children who visit the park are also highly amused by the showers. The showers are also more convenient than using pipes to bathe the elephants, he added.

A difficult decision: Safari Park to euthanise crippled lion pair

Along with the mahout and zookeepers, a team of vets is also present at the park to conduct medical check-ups of the animals and address any health concerns that may arise. Ayub informed that big slabs of ice were kept inside the enclosures of the other animals to reduce the heat.

Ayub said that the park has welcomed five fawns and four young markhors in its midst. Different species of deer have given birth in the past one and a half month. These include one chital, three blackbucks and one urial. The number of markhors, which is also the national animal of Pakistan, has also increased with the birth of four baby markhors. The director said that the young ones have added to the liveliness and exuberance at the park.

While markhors cannot survive in all climates, Ayub said that the markhor of Sindh can survive in hot weather as well and do not need cooler climates. They eat dried or green grass, chickpeas and jaggery, he added.

Ayub assured that despite the lack of funds, the park administration was trying to ensure that the animals were provided with good care. He felt that the recent births were proof that the animals were happy and well taken care of.

Published in The Express Tribune, April 10th, 2019.
COMMENTS (1)
Comments are moderated and generally will be posted if they are on-topic and not abusive.
For more information, please see our Comments FAQ