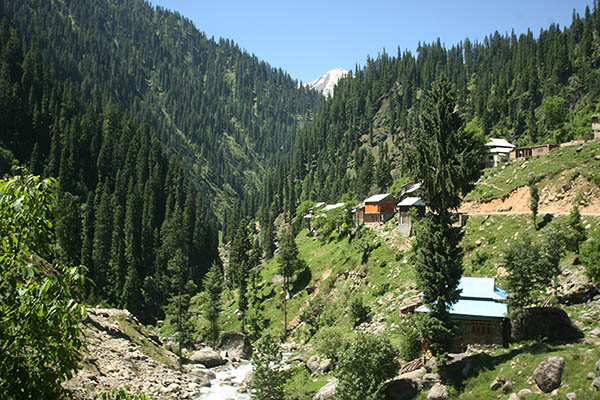 ---
The image of Pakistan as an unsafe country for tourists is gradually changing and now many countries around the world see the potential for tourism in Pakistan, Telegraph reported on Monday.

According to the publication, Pakistan was once one of the highlights of the classic 'hippie trail' or 'overland' route from Europe to the Far East, a rite of passage for disillusioned Western youth. Peshawar and Lahore were considered not only safe – but also fine places to kick back for a few days in a budget hostel.

Prime Minister Imran Khan is committed to kickstarting tourism to help raise money for a welfare state. His policy has so far extended to tweeting pictures of the country's beaches and snow-capped mountains, hosting a two-day tourism summit last week, and, most significantly, cutting the red tape and entry requirements that have the potential to put off visitors.

Private sector urged to develop facilities for tourists

As of this month, residents of five countries - the UK, China, Turkey, Malaysia and the UAE - can take advantage of a new online e-visa system, while most restrictions on movement within the country have been abolished.

Jane Westwood of Wild Frontiers, one of the few UK operators to offer tours of Pakistan, welcomed the changes. "The old visa system was very convoluted," she said. "Both travellers and tour operators needed to file numerous supporting documents and the whole process took two weeks or more – now it can be wrapped up in a matter of hours. It is also significantly cheaper, from £134 down to the equivalent of $60 [£46]."

She also praised the loosening of the No Objection Certificate (NOC) system, under which travellers needed special permission to visit certain parts of Pakistan. These have been scrapped for all but a few border regions, opening up parts of Kashmir, Chitral and Gilgit-Baltistan.




"It's a beautiful country, and one of the most welcoming," said Westwood, who has visited twice. "The mountain scenery is staggering, and it's perfect for trekking, but there are fascinating cities too. Islamabad is leafy and green, with wide boulevards; Lahore has a remarkable Old City, gardens, museums and forts – a real combination of old and new. Then there's the Kalasha Valleys, which have a unique pagan culture, with traditional lifestyles, dress and festivals."

Tourism growth to tackle poverty, unemployment: PM

Westwood says that bookings for Pakistan tours have increased significantly during the past two or three years, an assertion that's backed up by official tourism statistics. In 2015, Pakistan welcomed 563,000 overseas arrivals. That figure grew to 965,000 in 2016, 1.6m in 2017 and 1.9m last year. Some of those will be expats of Pakistani heritage visiting friends and family, but it is suggestive of a destination finally about to live up to the oft-applied billing of "tourism's next big thing".

Last year both France and Portugal relaxed their advice on travel to Pakistan; the US suggests its citizens "reconsider travel" to the country, putting it on a par with the likes of Honduras, Sudan and Turkey.

Perhaps the best bellwether is the arrival of a British Airways plane. On June 2 the airline will restart flights from Heathrow to Islamabad, marking its first service to the country for a decade.

"The links between Britain and Pakistan are already extraordinary – from culture and cricket, to people, politics and education," said Thomas Drew, the British High Commissioner to Pakistan, when the route was announced last December. "I see this launch as a vote of confidence in the future of those links – and, of course, a reflection of the great improvements in the security situation in Pakistan in recent years."

Pakistan's potential for growth in tourism is almost limitless and with Imran Khan's efforts to promote tourism, Pakistan could finally emerge as a global player.


COMMENTS
Comments are moderated and generally will be posted if they are on-topic and not abusive.
For more information, please see our Comments FAQ