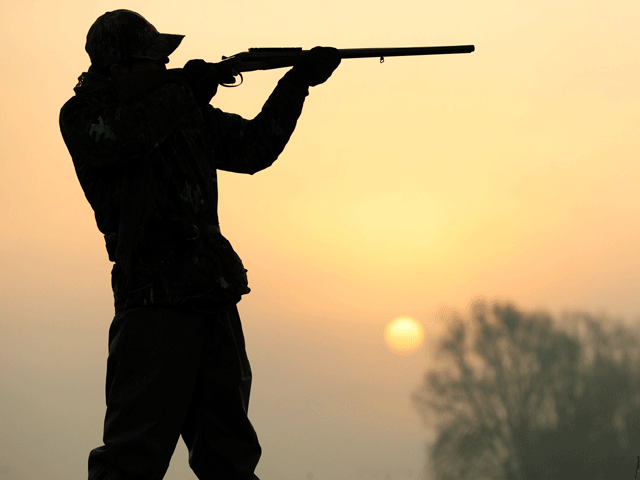 ---
LAHORE: The Punjab Wildlife Protection and Parks Department has decided to amp up fines and the punishment for poaching birds and animals in order to curb the practice. Reportedly, recommendations for further amendments to the Punjab Wildlife Act 2007 have been prepared.

In addition to amping up the penalties for illegally hunting animals, the recommendations also propose that the practice be declared a non-bailable offence. Wildlife officials added that negligible fines and small sentences are the main reasons behind uncontrolled poaching.

Further recommendations are also being prepared in this regard. For this purpose, a committee has been constituted consisting of Deputy Director Chaudhry Shafqat and others.

In November 2015, the Punjab Wildlife and Parks Protection Department prepared recommendations and sent it to the Punjab chief minister for approval. However, these recommendations were not implemented.

Under the proposed recommendations, individuals found hunting animals and birds protected by the government without a special license and permission, using dogs and falcons for poaching, holding wild animals and birds captive without a license, purchasing wild animals without license, importing, exporting or transporting animals without a license or hunting in game reserves will be taken into custody.

The minimum punishment for illegally holding animals and birds captive will be increased to three years which may also be extended to five years. Meanwhile, the fine may vary from Rs50,000 to Rs0.1 million. In addition to this, the individual's license will also be cancelled.

Similarly, the minimum punishment for hunting in a wildlife sanctuary, a breeding farm, a national park or a game reserve is three years while the maximum punishment is seven years. Meanwhile, the fine can be between Rs0.1 million to Rs0.2 million.

All weapons and vehicles being used for hunting will be seized by officials. Under the Wildlife Act 2007, officials will decide the settlement and the compensation. However, the compensation for animals which are not included in the government schedule will be Rs20. This will be doubled for a second time offense. The third time, the officials will not settle for compensation.

Meanwhile, Punjab Wildlife Department Director General Sohail Ashraf said that the department is cracking down on inter-provincial transportation of birds and animals and will take stern action against those found guilty.

He expressed these views while presiding over a special meeting on Sunday. The DG stated that under the new strategy that will be implemented, dealers will not be able to transport wild animals via planes, trains or roads between the provinces without a permit.

He revealed that the department has received reports that dealers are transporting animals between provinces using trains and by road without fulfilling the proper legal requirements. Dealers receive consignments at smaller, non-descript railway stations and then send it onward to its main destination. In this manner, they give the false impression that the animals are being transported within the province, he explained.

Under the new strategy, the railways department general manager Islamabad and the provincial transport secretary have been directed to inform all workers at railway stations and cargos to not book consignments of animals without a permit from the wildlife department, he added.

He said that existing laws are being changed under which individuals found guilty of transporting animals across provinces will have to pay a penalty. In addition, the animals will be seized and will be sent to zoos and wildlife parks.

On the other hand, the bird seller association has opposed the moved. Speaking to The Express Tribune, president of the association Khalid Iqbal said that exotic birds are brought into the country after the issuance of a no-objectification certificate and clearance from customs. To issue another permit is redundant, he stated.

He added that these birds are not from Punjab province, so how can this rule be implemented on them. He expressed that he will object to the implementation of this rule in a court of law.