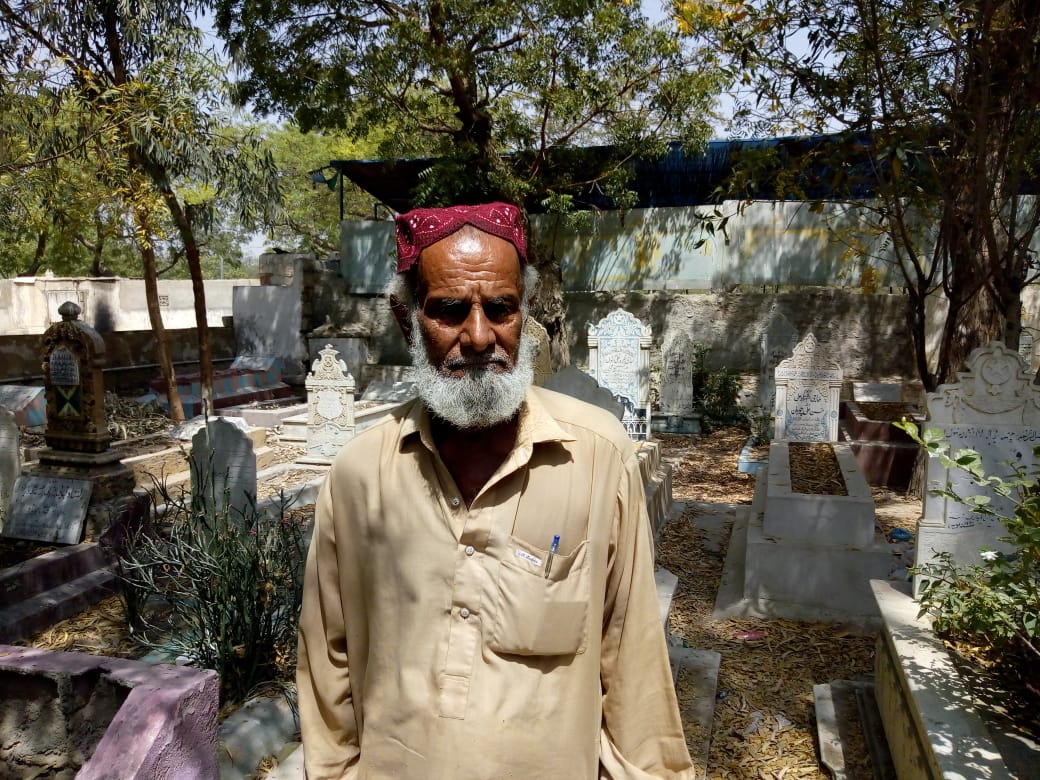 ---
KARACHI: Graveyards are ominous places, dreaded by nearly all. And yet they occupy space in our imaginations even if death has not been encountered yet. Gravediggers, however, are not granted that courtesy. It is only the bereaved and the aggrieved who meet them, and in that moment of mourning, our thoughts are typically with the loved ones we have lost. Gravediggers, it appears, are also ignored by the state.

Even the descendants of the gravedigger who prepared the final resting places of beloved personalities such as Quaid-e-Azam Muhammad Ali Jinnah and Qauid-e-Millat Liaquat Ali Khan are forced to live a life of poverty, unnoticed and unappreciated. At a mosque near Mewa Shah Graveyard, in SITE area, sits gravedigger Fatah Muhammad. This is his story.

Fatah Muhammad, an ailing man of 60, has spent his entire life working in Mewa Shah Graveyard. As a child, he used to assist his father, Noor Muhammad, who prepared the graves of some of Pakistan's founding figures as well as other prominent personalities. Today, Fatah is the father of six daughters and a young son. He has spent his life serving the deceased and knocking on doors of government offices for recognition of his father's services. As he nears the end of his Kafkaesque life, Fatah finds himself deprived and excluded from Mewa Shah Graveyard, robbed of his livelihood and ignored by both society and state.

Ancestral profession
Mewa Shah Graveyard, named after a 19th century Sufi, Mewa Shah, who was jailed and eventually exiled by the British for his struggle against colonial rule, is one of the largest and oldest graveyards in Karachi. The deceased of multiple religions, Jews, Christians, Muslims and Hindus rest in Mewa Shah Graveyard which includes space for cremation as well. Over the years, a portion of the graveyard was lost as tombstones were razed and factories, houses and buildings were constructed in their place. However, the graveyard still exists and its significance in Karachi prevails.

Fatah's father, grandfather, and great grandfather have served as gravediggers at the graveyard. When his father died, Fatah's mother took on the responsibility of being the caretaker of the graveyard.
In 2010, Fatah was informed he would be given a job in the district government on the directives of former Sindh chief minister Qaim Ali Shah. However, when he approached the relevant departments to receive his appointment letter he was asked to pay a bribe of Rs50,000. He managed to pay the amount by taking loans and selling off items from his house, and was appointed as the supervisor of Mewa Shah Graveyard.

What's in a game? A devoted coach has high hopes for football in Pakistan

At the time, Fatah thought that there would finally be the promise of a stable income in his life. His hope for financial security was, however, short-lived. Fatah was not paid his salary for several years after he joined the post. He contacted the Chief Minister's House relentlessly and managed to get departmental directives issued for the payment of his salary as well but found that those directives were never implemented.

As supervisor of the graveyard, he would issue an official receipt of the burial in exchange for which he would be paid Rs100 to Rs200 by the families of the deceased.

Monetising death

During Fatah's tenure as the supervisor, Mewa Shah Graveyard was affected by gang wars going on in nearby vicinities. Criminals and drug addicts began frequenting the graveyard until it was eventually overtaken by the mafia.

Under the mafia, the fees for providing space for graves in Mewa Shah increased to Rs20,000 to Rs25,000. The mafia appointed its own gravediggers there and excluded Fatah from the graveyard.
In a mosque near the graveyard, Fatah tells The Express Tribune that he is no longer allowed to enter the premises.

He speaks of how his father would always insist on Wuzu before digging a grave, and of how he was taught Quranic verses to recite when the body was lowered inside the grave.

Gravediggers nowadays are far removed from religion, laments Fatah. According to him, gravediggers in the past would only charge a small wage for digging the grave, but now the land for the grave is given after bargains and negotiations. Too often, says Fatah, a dead body would be buried in same grave as another which was buried just six months prior as things stand now.

The Quaid's gravedigger

Fatah's father, Noor Muhammad, was heading home after finishing his day's work at Mewa Shah when he met some government officials along the way who inquired about his profession. Upon hearing that he was a gravedigger, the officials beckoned for Noor to accompany them in their horse cart and took him to where the tomb of Quaid-e-Azam exists now.

The officials asked him to prepare a grave on top of a rocky hill. Noor asked for special tools and some assistance as the ground was rocky. He, along with the officials, went back to Mewa Shah Graveyard where they picked up the necessary tools, four labourers and headed back to dig the grave.

Quaid-e-Azam Muhammad Ali Jinnah's grave was prepared after 16 hours of continuous labour, claims Fatah.

Who will share his load? 25 years of service and no benefits to look forward to

According to Fatah, his father was a gravedigger from 1930 to 1974 and also prepared the graves for Liaquat Ali Khan, Fatima Jinnah, Sardar Abdur Rab Nishtar, I I Chundrigar, Muhammad Hussain Suharwardy, Chaudhry Abdul Mateen, Sir Abdul Haroon, Qazi Khuda Bakhsh, Baba-e-Urdu Maulvi Abdul Haq, Yousuf Shah Ghazi, Abdul Rehman Kanch Qawwal and Muhammad Hashim Gazdar.

His father also had the honour of meeting the Quaid, tells Fatah. Noor prepared the grave of Maulana Muhammad Ali Jauhar on the directives of Jinnah at Mewa Shah Graveyard but the burial was done at Baitul Muqaddas in Jerusalem. Fatah narrates that the Quaid visited Noor Muhammad personally along with Abullah Haroon and apologised. Jinnah also gave Noor Rs10 as donation and expressed the wish that his grave be prepared by Noor.
Before the state
Noor was never paid for the graves he prepared for these noted figures, says Fatah. Instead, he was given the white cloth in which the deceased were wrapped before being lowered into the graves. In time of need, Noor sold the sheets for Rs1 per sheet.

Noor was presented a certificate for preparing the Quaid's grave but that certificate is lost now. Fatah still has the certificate Noor received for preparing the grave of Liaquat Ali Khan but it is now in a frayed condition and as Fatah narrates his story, he laments that the certificate was of no use when the family suffered from poverty and starvation. It proved to be just a piece of paper, says Fatah.

Fatah tells that he has spent his life outside government offices trying to get some sort of official recognition for his father's services but to no avail. He claims that his father and his family deserve the government support just like others who are recognised for their national services. Even celebrities of the entertainment industry have received the Tamgha-i-Imtiaz, he says.

Unappreciated services
Fatah's plea is perhaps also supported by the fact that his family has spent their lives in poverty and have experienced starvation often. He tells of his six daughters, one of whom has passed BCom, and how he has requested former chief minister Qaim Ali Shah and current Chief Minister Mumtaz Ali Shah for employment for his daughters.

One of his daughters suffers from a mental illness and the family struggles to pay for her treatment. Fatah and his wife also suffer from poor health and turn to government hospitals for their treatment. His young son is learning mechanical skills as Fatah cannot afford to pay for his education anymore.

Fatah is now reduced to asking for financial assistance from people visiting the graveyard as he has no other means of income to support his family now.

Almost every individual is hit by the reality of their mortality at some point in their lives. We think of life after death, we think of the life we live before we breathe our last, religion tells us of what we may expect to experience in our graves once we are dead, but we hardly ever think of those who prepare our final resting places.
COMMENTS
Comments are moderated and generally will be posted if they are on-topic and not abusive.
For more information, please see our Comments FAQ