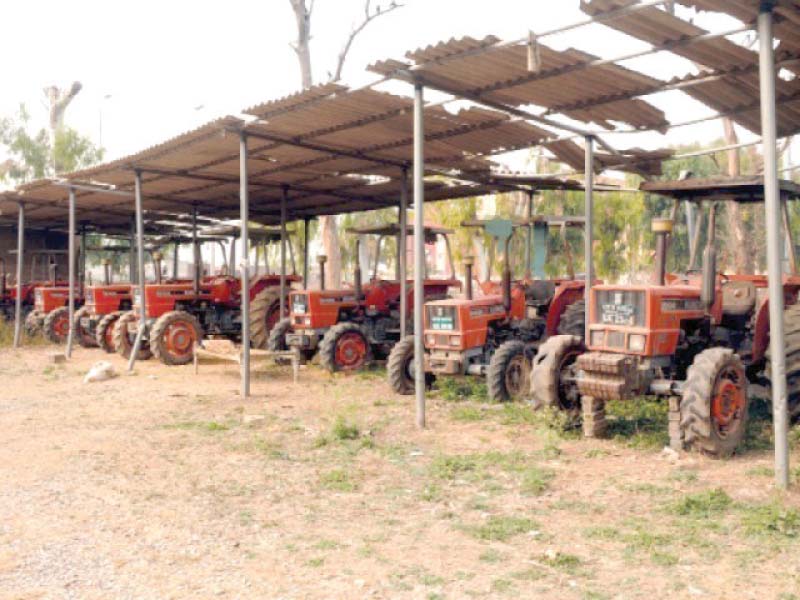 ---
ISTANBUL: Pakistan's tractor manufacturing industry, which is facing a crisis-like situation in the country due to a slowdown in sales, has turned its focus towards exports in a bid to make up for the shortfall in the domestic market.

"Tractor manufacturing companies are eyeing markets of the Middle East and Africa and are striving to capitalise on the opportunities there," an industry player said while talking to The Express Tribune.

At the same time, the manufacturers of tractor parts are making efforts to step up export of their spare parts to countries of the European Union.

Besides other industries, the ongoing economic slowdown in Pakistan has impacted the tractor industry as well. Sales of new tractors are going down to the agriculture sector, which is reeling from a high cost of production.

According to statistics of the Pakistan Automotive Manufacturers Association, tractor sales went down 28% to 32,013 units in first eight months (Jul-Feb) of the current fiscal year compared to sales of 44,627 units in the same period of previous year.

Tractor bookings drop sharply as economy slows down

The slowdown in sales has hurt both the manufacturers of tractors and their spare parts. In an attempt to scout for export markets, Millat Tractors and manufacturers of tractor parts and tyres participated in the Automechanica exhibition in Istanbul this week. They were very optimistic about finding avenues for export of tractors and their spare parts to the Middle East, Africa, eastern Europe and Turkey.

Talking to The Express Tribune, Millat Group of Companies Deputy General Manager Commercial Syed Aale Ali Zaidi revealed that his company turned to the export market four years ago in the wake of growing challenges faced by the tractor industry at home.

"Besides exporting tractors to African countries, Millat Tractors is supplying tractor engines and parts to Australia, Austria, Finland, Ireland and Britain," Zaidi said.

Last year, Millat Tractors sold around 42,000 units, of which about 5,000 were exported.

He pointed out that African nations were emerging as a big market for Pakistani tractors, particularly Tanzania, Zambia, Zimbabwe, Sudan and South Africa. He was of the view that Germany's Hannover fair and Turkey's Automechanica were important events for deepening relations with old buyers and looking for new importers.

He called the Automechanica fair a hub for goods buyers of Europe, Asia, the Middle East and Africa.

"The response of buyers is encouraging; importers of many countries have expressed interest in buying Pakistani tractors and their engines," he revealed.

Zaidi said Pakistan's market had been under pressure and in December and January Millat Tractors stopped production at its plant. However, he added that Adviser to Prime Minister on Commerce Abdul Razak Dawood was taking keen interest in developing the tractor industry and increasing its exports.

He emphasised that in order to compete with other tractor exporters, Pakistan's industry should embrace new technology and invest heavily in research and development work.

"The current Pakistan Tehreek-e-Insaf (PTI) government has assured the industry of a relief package; it also sought proposals from the industry, responding to which the industry particularly underlined the need for establishing a strong market intelligence system," he said.

According to Zaidi, Pakistani tractors can compete effectively with any other tractors from around the world because of their good quality and reasonable prices. "What the industry needs is just information about foreign markets and with its help, we can increase our exports."

In this regard, the tractor industry has suggested that the government should entrust Pakistani embassies and consulates abroad with the task of providing information about the demand and required quality of tractors in relevant foreign markets, particularly in those countries where the focus was mainly on the agriculture sector.

Foreign missions can provide information about the crops being cultivated in these countries, from where they are until now importing tractors and how the governments and banks there are providing support to the industry.

Published in The Express Tribune, April 7th, 2019.

Like Business on Facebook, follow @TribuneBiz on Twitter to stay informed and join in the conversation.