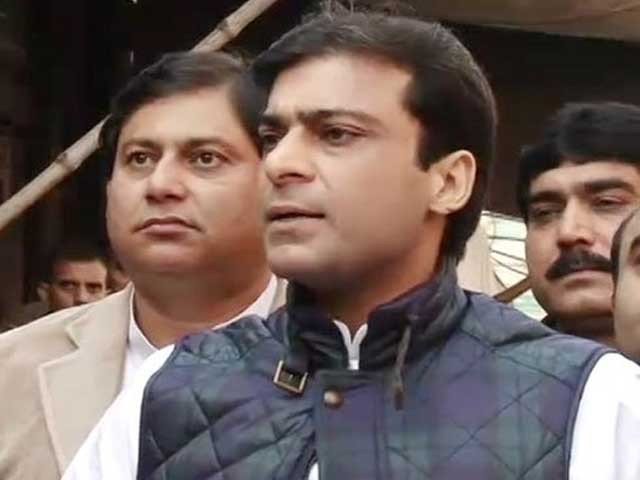 ---
ISLAMABAD:

The Lahore High Court (LHC) on Saturday stopped the National Accountability Bureau (NAB) from arresting Punjab Assembly Opposition Leader Hamza Shehbaz as it granted the Pakistan Muslim League-Nawaz (PML-N) leader a pre-arrest bail till Monday, April 8 amid protest by the government.

A NAB team on Friday raided the residence of PML-N President Shehbaz Sharif in the Model Town area of Lahore to arrest his son, Hamza, in connection with cases of alleged graft. However, the PML-N activists and private guards allegedly prevented the team from taking away Hamza.

In a statement, NAB had said the team conducted the raid after gathering solid evidence. However, the members of the team were tortured, their clothes were torn apart and threats were hurled at them.

NAB had announced that it would take legal action against those who prevented the team from performing its duty. But Hamza, while taking to the media after the raid, had said he had always appeared before the accountability watchdog and never ignored its summons.

On Saturday, while an accountability court allowed NAB to arrest Hamza on basis of the arrest warrants issued by the NAB chairman, Hamza's counsels, including Amjad Pervaiz, appeared before the LHC Chief Justice Sardar Muhammad Shamim Khan in his chamber.

Hamza's legal team contended that the petitioner's writ petition seeking interim pre-arrest bail in inquiry No 1(9) HQ/2011/IW-II/NAB-L of October 23, 2018 and investigation No 1(61) HQ/974/NAB-L of April 4, 2019 has already been pending before an LHC division bench which will hear it on April 8.

Advocate Amjad Pervaiz argued that another writ petition of the petitioner [Hamza] seeking pre-arrest bail was also filed on November 20, 2018 before a division bench.

NAB makes botched attempt to arrest Hamza

"The bench had clearly directed NAB authorities that if subsequently arrest of the petitioner is required, he [petitioner] shall be given 10-day notice for the said purpose but NAB violated this order."

He said NAB officials did not serve any notice to Hamza and cordoned off his house which is against the norms of the said order.

He requested the court that an interim protective bail be granted to the petitioner till April 8 in order to enable him to approach the concerned division bench.

The CJ noted that if the case was a division bench's matter how a single bench could entertain the petition. The counsel referred to a case law reported as "Imran Raza Khan, advocate versus SSP, Lahore and two others" contending that similar matter was entertained by the CJ at his residence.

The petitioner in his bail petition sought indulgence of the court for safeguarding his right to life, liberty and honour contending that issuance of warrant of arrest by NAB is not only violative of the statutory provisions but also the law since settled that "an arrest is not desirable even in most heinous offences so long as an accused cooperates during investigation".

The PML-N leader contended that NAB embarked upon "a roving, fishing and sniffing expedition" to implicate him and his family in false criminal cases – related to Saaf Paani Company; construction of Sullage Carrier and alleged assets beyond means.

In the plea, he nominated NAB through its chairman, director general and an assistant director.

He said according to media reports, the LHC's order had since been challenged in the country's top court. However, the petitioner had not yet received any notice for hearing or otherwise and the above said order of the LHC is still intact.

Hamza requested the court that "the writ petition may kindly be accepted and the petitioner may kindly be admitted to bail before arrest in inquiry No 1(9) HQ/2011/IW-II/NAB-L of October 23, 2018 and investigation No 1 (61) HQ/974/NAB-L of April 4, 2019 in the interest of justice."

Later, the court granted Hamza an interim bail till April 8.

FIR against PML-N workers

Meanwhile, the police registered a First Information Report (FIR) against Hamza' guards at Model Town police station on Saturday. The case was registered on complaint of a NAB official under sections 353, 186, 427, 506, 148 and 149 of the Pakistan Penal Code (PPC).

The complainant, who works as a driver in NAB, said on Friday he along with other NAB officers went to arrest Hamza at 96-H Model Town where his guards tortured him and tore apart his clothes.

"They also caused hurdles in state affairs and stopped arresting the accused person. They also shattered windows of a government vehicle and damaged its back side. The suspects also intimidated them with life threats," the FIR said, requesting lawful action against the suspects in his complaint.

Accountability court's order

Earlier, an accountability court allowed NAB to arrest Hamza on basis of the arrest warrants issued by the NAB chairman. The court told NAB it did not need special direction to execute the arrest warrants.

"The procedure of causing arrest of accused is detailed in Chapter-V of CrPC which is mutatis mutandis applicable to all the proceedings under NAO 1999.  In view of the matter, no specific direction is required to be issued to execute the duly issued warrant of arrest, if same is not suspended by the competent authority. Petition without force stands dismissed," it said.
COMMENTS (1)
Comments are moderated and generally will be posted if they are on-topic and not abusive.
For more information, please see our Comments FAQ