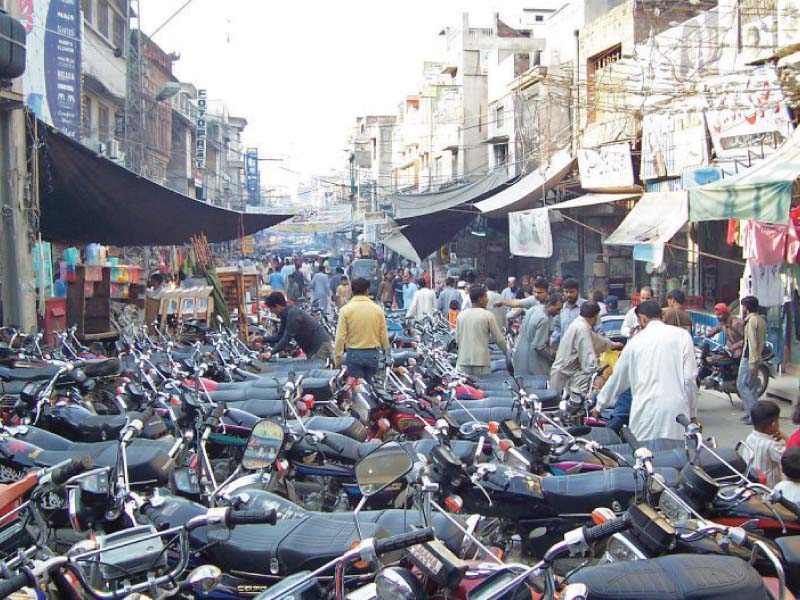 ---
SIALKOT: Encroachments on pavements and other public spaces in Sialkot's Daska tehsil have caused a nuisance for locals. Residents say that these illegal structures are thriving in the area, raking in millions for the people involved.

Despite their complaints, citizens say nothing has been done to improve the situation. They say the structures and have taken up public spaces.

'They are just declaring encroachments at will'

Shoppers face immense difficulties due to large scale encroachment in markets and many have urged authorities to take note of the situation.

Area locals told Express News that encroachments have increased on a massive scale in markets and trade centres across Daska City. The increasing number of pushcarts has made it difficult for citizens to even walk.

Fawwara Chowk, College Road, Bank Road, Pasrur Road, Main Bazaar, Subedar Bazaar, Fish Market and others are some of the affected areas. Shopkeepers spew their items on the footpaths and roads, while wheel cart owners and stall keepers have taken whatever space is left. Many of the business owners have constructed solid structures which are encroaching public spaces.

In addition, traffic jams have become far too common on major thoroughfares and main markets thanks to encroachments and wheel carts.

The district administration has conducted several operations to remove the encroachments, but shopkeepers have reclaimed their former ground. Citizens have strongly demanded that an all-out operation be carried out to end the menace of illegal encroachments.

They said it is almost certain that the menace of encroachments cannot be controlled at the municipal level until authorities concerned must take it seriously.

Several anti-encroachment drives have been launched in in the past, but again to no avail.

A survey conducted by Express News of the main marketplaces and shopping or commercial areas shows that encroachers have reoccupied the spots from which they were removed during previous campaigns. They continue doing business on encroached lands as if they were never dislodged.

Tahir Iqbal, a resident of Gulistan Town, said that encroachments have made the lives of the people miserable..

"The city has run out of public space due to this menace. The government should take strict action against encroachers."

Garden Town resident Bilal Jamshed said that encroachment is a crime and the police and district administration should work together to get rid of this nuisance"

"It takes me hours to reach home from office as vehicles get stuck in traffic jams caused by encroachments."

Similarly, Shahid Hussain, a resident of Sabzi Mandi Colony, said that the beauty of the city has been marred by these encroachments. "Irregular structures should be razed and removed to free public space," he suggested.

Published in The Express Tribune, April 6th, 2019.