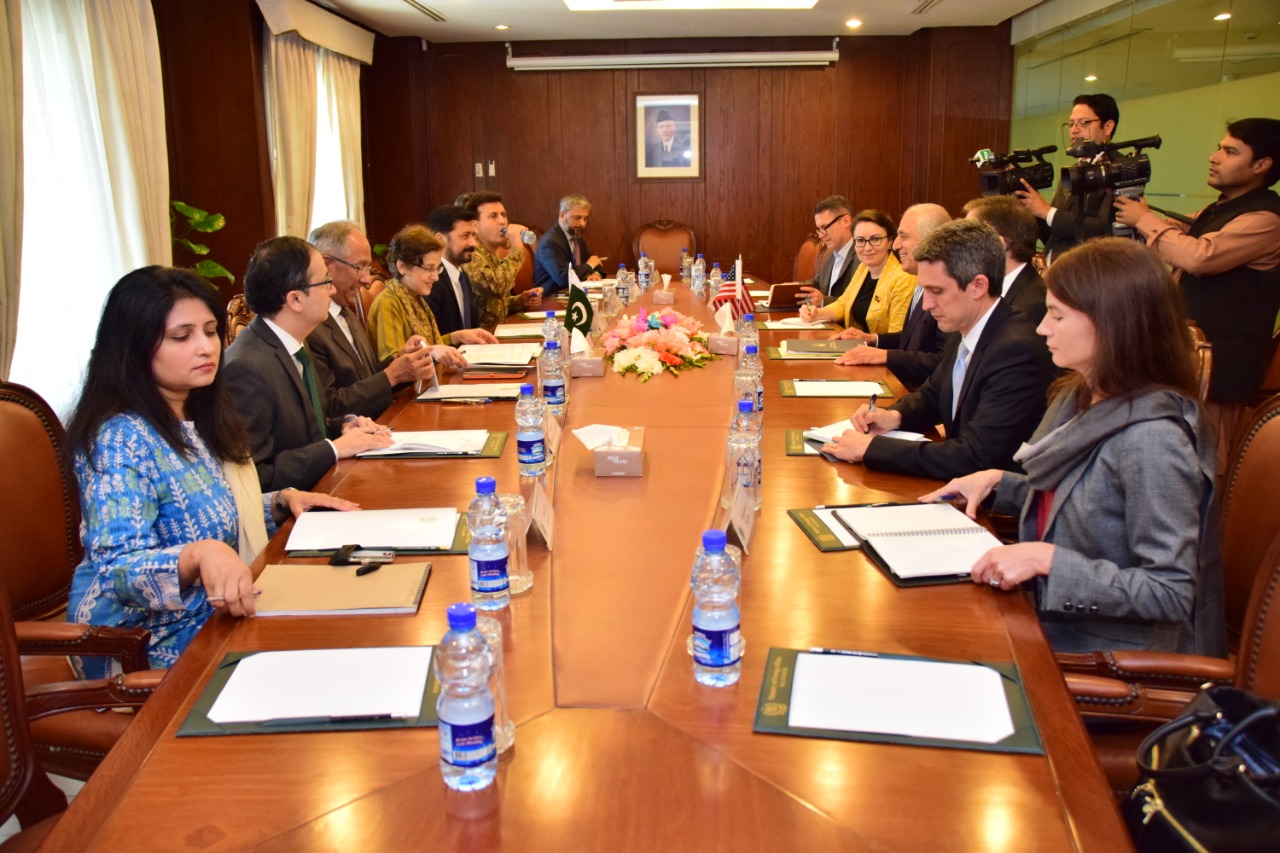 ---
United States Special Representative for Afghanistan Reconciliation Zalmay Khalilzad arrived in Islamabad on Friday for delegation-level talks between Pakistan and the US on the Afghan peace process. He was received by Foreign Secretary Tehmina Janjua at the Foreign Office (FO).

The US envoy is on yet another visit to the South Asian region in pursuit of reconciliation with the Afghan Taliban. He apprised Foreign Minister Shah Mehmood Qureshi on the latest developments following talks with Afghan Taliban in Doha.

He also briefed foreign minister on discussions with prominent Afghan leaders on his recent trip to Kabul.

The foreign minister appreciated intra-Afghan talks and stressed on the importance of acknowledging Afghans' sentiments regarding the peace process. Qureshi reiterated Pakistan's support in pushing for reconciliation. "Pakistan wishes well for the peace and stability in Afghanistan which would directly benefit Pakistan's own vision for economic and human development."

US envoy Khalilzad to visit Pakistan as part of four-nation tour




Earlier in the day, delegation-level talks were held between the two sides. The Pakistani delegation was led by Janjua while Khalilzad led the visiting team.

The Foreign Secretary briefed Khalilzad on the telephonic conversation between Qureshi and US Secretary of State Mike Pompeo. "She informed about their mutual interest in further progress on Afghanistan peace efforts and that they agreed to remain engaged to pursue the reconciliation process," said FO.

The ambassador is travelling from Kabul where he held discussions with Afghan President Ashraf Ghani and other prominent Afghan leaders "inside and outside of the government" on "joint efforts to meet the Afghan peoples' compelling desire for peace".


Constructive discussions this week with Pres @AshrafGhani and other prominent Afghans inside and outside of government on our joint efforts to meet the Afghan people's compelling desire for peace. Look forward to continuing this important work in greater depth in the coming days.

— U.S. Special Representative Thomas West (@US4AfghanPeace) April 4, 2019


During his stay in Kabul, Khalilzad spoke to Afghan youth through video link. Taking to Twitter, he said the youth from Sheberghan, Bamian and Charikar made it clear that they wanted to be involved in the Afghan peace process. "[They] deserve security and are determined to build on the progress of the last 18 years."


Always good to field tough questions from the next generation. Speaking with young people from #Sheberghan, #Bamian & #Charikar, they made clear they want to be involved in the #AfghanPeaceProcess, deserve security and are determined to build on the progress of the last 18 years. pic.twitter.com/FTM7A5YLua

— U.S. Special Representative Thomas West (@US4AfghanPeace) April 4, 2019


Meanwhile, Tolo News reported that the US envoy supported an agreement between Islamabad and Kabul based on which Pakistan should play a constructive role in Afghanistan.

"Since I have taken on the role, I have encouraged them to play a more positive role, because if they want to improve their ties with the US, their policy toward Afghanistan must change, otherwise, the US and Pakistan relations will not improve," Khalilzad said.

He said the level of violence in the war-torn country would decrease when a deal is reached between the Afghan government and Taliban but it will not end the ongoing war "because there are other insurgent groups such as the Islamic State".

US envoy Khalilzad departs on four-nation tour for dialogue on Afghan conflict

Afghan Peace Process

The US envoy is on a mission to expedite the Afghan peace process as the war in the war-torn country enters its 19th year. He has held a series of meetings with the Pakistani leadership as part of Washington's renewed push to bring the Afghan Taliban to the negotiating table.

The latest push for peace came after President Donald Trump wrote a letter to Prime Minister Imran Khan, seeking Pakistan's help for the negotiated settlement of the Afghan conflict.

In the letter, the United States had sought PM Imran's full support to advance Afghan peace process. The correspondence came after Trump accused Pakistan of "doing nothing" despite receiving "billions of dollars" in aid.


PM IK's response to Trump's offensive tweets against Pak compelled Trump to do a reality chk & write to PM Khan asking for help in bringing peace to Afghanistan! So much for those in Pak who were quivering after IK's tweets went out!

— Shireen Mazari (@ShireenMazari1) December 4, 2018
Of course we should have captured Osama Bin Laden long before we did. I pointed him out in my book just BEFORE the attack on the World Trade Center. President Clinton famously missed his shot. We paid Pakistan Billions of Dollars & they never told us he was living there. Fools!..

— Donald J. Trump (@realDonaldTrump) November 19, 2018


The premier had hit back to the allegations by advising Washington to assess its efficiency in the war on terror instead of making Pakistan a scapegoat for its failure.


Trump's false assertions add insult to the injury Pak has suffered in US WoT in terms of lives lost & destabilised & economic costs. He needs to be informed abt historical facts. Pak has suffered enough fighting US's war. Now we will do what is best for our people & our interests

— Imran Khan (@ImranKhanPTI) November 19, 2018


Although both the US and Pakistan now have a commonality of views on seeking a political solution to the Afghan problem, the trust deficit between the two is the real stumbling block. Relations between the two countries are tense despite recent efforts to reset the troubled ties.

At the heart of their stalemate is the US insistence on Pakistan to do more to bring the Afghan Taliban on to the negotiating table. Washington still believes that Islamabad holds considerable sway over the insurgent group.