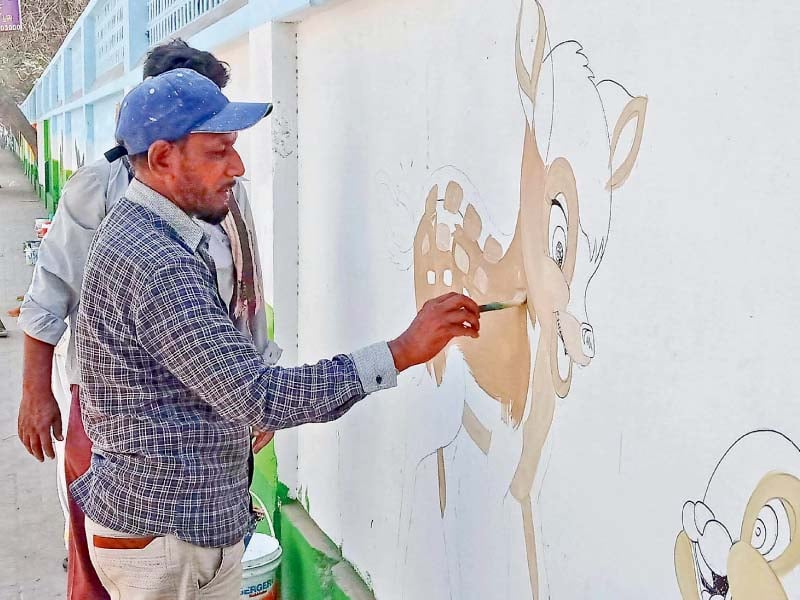 ---
KARACHI: The Karachi Zoo is set to receive its new guests - rhinoceros, hippopotamus and zebras - and the work has already been initiated on enclosures for the new guests.

The approval for the enclosures has already been given by the provincial government and Metropolitan Commissioner Dr Syed Saifur Rehman has been asked to complete the rehabilitation and improvement work under the Annual Developmental Programme (ADP) before June 30.

Dr Rehman visited the zoo on Wednesday morning and inspected the ongoing work. Sindh special secretary for mega projects, Niaz Soomro, Mega Projects Director Khalid Masroor, Architect Shahid Saeed, Senior Recreation Director Mansoor Qazi, Additional Director Ismail Shakir, deputy directors Raees Abid and Muhammad Younus and executive engineer Amir Qureshi were also present during the visit.

Karachi zoo to get more exotic animals in major revamp efforts

Dr Rehman said that the different parks and picnic spots along with Karachi Zoo are the identity of this city and efforts to improve these places should be continued. He said that colourful pictures of different animals have been painted on the outer walls of the Karachi Zoo for the amusement of visitors, especially children.

He said that the enclosures which are being constructed for bigger animals under the rehabilitation and improvement programme are specially designed such that they are closer to the natural habitat of the animals. He added that during the construction the trees and plants present in the zoo were protected and none of the plants and trees were damaged or harmed.

Dr Rehman was informed that a total of 60 toilets are being constructed near the three entrance gates. An adequate place for food stalls is also being constructed separately in the zoo and underground work for water and gas supply is also being carried out. Two entrance gates have been reserved for parking and the parking lots are being widened, he was informed. Appreciating the developmental work, the commissioner said that the Karachi Zoo was an excellent picnic point which is being further improved. He expressed hope that it would also serve to educate people about the trees, animals and the environment.

Karachi Zoo loses one of its lions

Trees as old as 100 to 150 years are present in the zoo that spans an area of 40 acres. The trees include banyans, fig trees, neem and tamarind trees. The banyan trees occupy large spaces and new roots are still coming out of them. They enhance the beauty of Karachi Zoo. All these old trees were planted during the British rule in the subcontinent.

At present there are more than 850 animals are present in the zoo. These include 134 mammals, 244 reptiles, 475 birds and 200 fishes that are kept in beautiful aquariums. Two waterfalls are also present in the zoo.

Published in The Express Tribune, April 5th, 2019.