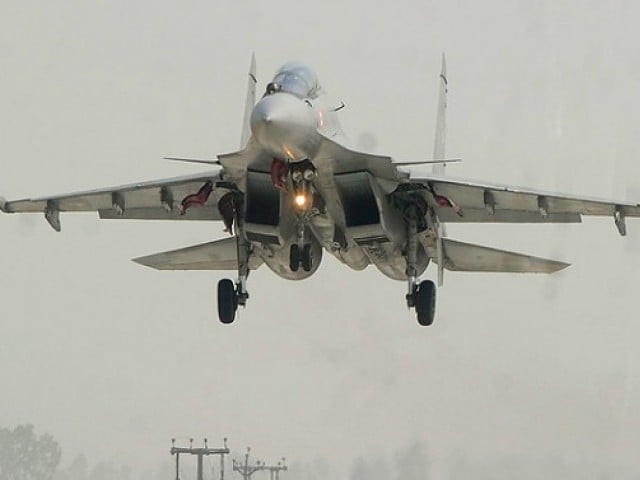 ---
The Indian Air Force (IAF) has urged the Modi government to buy 21 Russian-made MiG-29 ground attack and air-defence aircraft as it is badly short of fighter planes.

According to a Hindustan Times report, the IAF seeks a strength of minimum 42 squadrons (each comprising 16 to 18 fighters) but has only 30 while more squadrons will be decommissioned soon.

By F-16s or JF-17s, India can't deny downing of jets: ISPR

India is expected to get first Rafale fighter jets — the French-made medium multi-role combat aircraft (MMRCA) — in September this year.

The report said the Indian Air Force already has three squadrons of MiG-29 aircraft, positioned along the western borders. Meanwhile, the Indian Navy also uses the naval version of the MiG-29 fighters.

A senior Indian official with knowledge of the development was quoted in the report saying, "The airframes are ready and Russia has promised to deliver all 21 fighters within 18 months."

The senior IAF official who asked not to be named added, "The air-frames are ready and available in Russia."

The 21 MiG-29 aircraft will cost INR 2.85 to 3 billion per fighter, said the Indian media report.

"The price is extremely competitive," another senior Indian defence ministry official has been quoted in the report as saying and added, "The endurance of the aircraft is now nearly five hours with additional fuel tanks."

In March this year, Pakistan 'as a goodwill gesture' handed over to Indian authorities the captured IAF Wing Commander Abhinandan Varthaman as the nuclear-armed neighbours scaled back a confrontation that has prompted world powers to urge restraint.

Abhinandan walks home through Wagah

Abhinandan's MiG-21 jet was one of the two planes shot down by a Pakistan Air Force (PAF) after they entered Pakistan's airspace on February 27, a day after Indian warplanes barged into Pakistan and dropped 'payload' in a deserted place in Khyber-Pakhtunkhwa's (K-P) Balakot area.



This story originally appeared on the Hindustan Times.