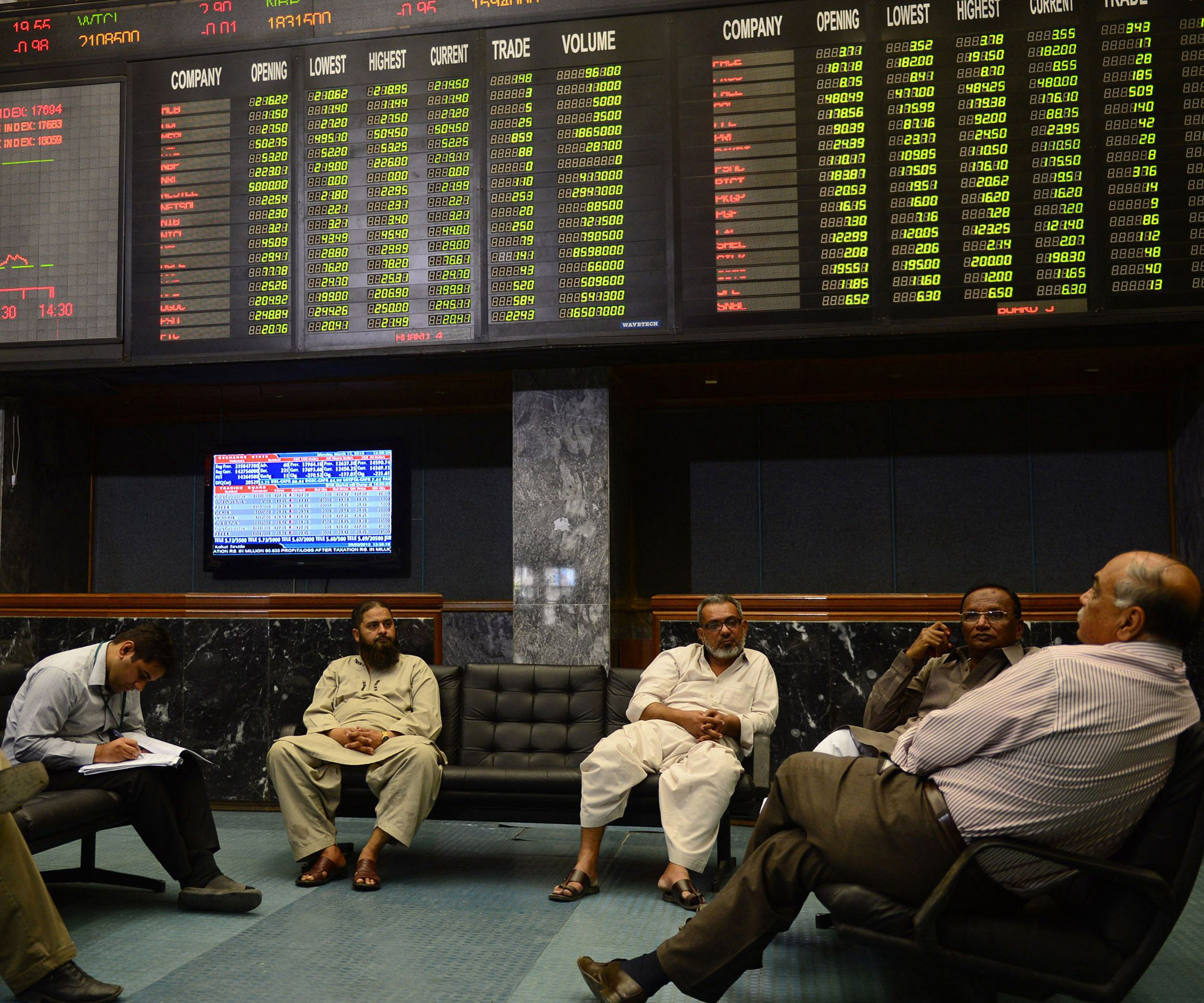 ---
KARACHI: Bears managed to keep control of the stock market for the third consecutive day on Wednesday, but the benchmark index shed just 13 points by the close of trade.

The KSE-100 index endured a volatile session as the market remained under pressure. Stocks continued to suffer from macroeconomic pessimism among market participants despite government's efforts to provide some breathing space with yet another amnesty scheme.

Talking to journalists a day ago, the finance minister indicated that the government was considering rolling out another amnesty scheme to allow people to declare their undeclared domestic and foreign assets.

Market watch: KSE-100 loses 319 points, dented by five-year high inflation

Following a brief start in the positive zone, selling pressure emerged, which pushed the index down by 181 points. The bourse, however, recovered after midday and after that range bound trading was noted.

At the end of trading, the benchmark KSE 100-share Index recorded a decrease of 13.23 points or 0.03% to settle at 38,022.80.

Arif Habib Limited, in its report, stated that the stock market traded in a narrow band during the day. "After an initial increase of 83 points, bank, cement, steel and fertiliser stocks faced selling pressure that pulled the index down by 181 points. However, recovery in the index resulted in a final tally of -13 points," it said.

The cement sector showed an increase in stock prices on the back of unconfirmed news of rise in cement prices in the northern region, it added.

The financial sector, on the other hand, remained timid. Exploration and production stocks recorded an increase in trading volumes, but price performance remained more or less contained.

The fertiliser sector saw a decline in stock prices on the back of news of urea import allowed by the government, adding to the woes of local manufacturers.

Steel sector stocks, which showed some improvement during the day, gave up price gains - although partially - in the last half hour.

Arif Habib Limited analyst Ahsan Mehanti said the stock market closed flat amid concern over higher inflation, surging State Bank policy rate and rupee instability.

Market watch: Index retreats 295 points amid dull trading

"Institutional support was witnessed due to a surge in global equities and oil and cement stocks outperformed on rising global crude oil prices and higher local cement prices," he said.

Uncertainty over new budgetary measures and weak oil sales data for March 2019 played the role of catalysts in the negative close, the analyst added.

Overall, trading volumes increased to 153.3 million shares compared with Tuesday's tally of 144.6 million. The value of shares traded during the day was Rs3.7 billion.

Shares of 335 companies were traded. At the end of the day, 134 stocks closed higher, 175 declined and 26 remained unchanged.

Unity Foods (R) was the volume leader with 39.7 million shares, losing Rs0.04 to close at Rs3.42. It was followed by WorldCall Telecom with 31.4 million shares, gaining Rs0.03 to close at Rs1.13 and Fauji Cement XD with 8.4 million shares, gaining Rs0.86 to close at Rs20.11.

Foreign institutional investors were net sellers of Rs62.3 million worth of shares during the trading session, according to data compiled by the National Clearing Company of Pakistan.
COMMENTS
Comments are moderated and generally will be posted if they are on-topic and not abusive.
For more information, please see our Comments FAQ