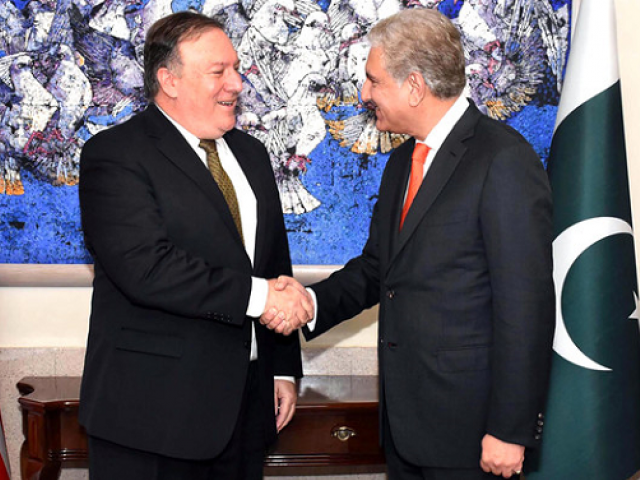 ---
ISLAMABAD: Islamabad has urged Washington to play a greater role in resumption of dialogue process with New Delhi, even as the Indian army increases ceasefire violations along the Line of Control (LoC).

Pakistan sought the US help for resumption of the dialogue process during a telephonic conversation between Foreign Minister Shah Mehmood Qureshi and the US Secretary of State Mike Pompeo on Tuesday.

"They exchanged views on the current situation in the region. They also discussed bilateral issues. Both sides agreed that de-escalation was important for peace and stability in South Asia," said a statement issued by the Foreign Office.

Foreign Minister Qureshi said Pakistan-US ties are important for promoting regional peace and stability. He appreciated the US role and efforts in defusing tensions in the region. He also briefed Secretary Pompeo about efforts and progress in the implementation of Pakistan's National Action Plan (NAP).

Qureshi informed Pompeo about the de-escalatory measures taken by Pakistan including the handing over of an Indian pilot, whose plane was downed by the Pakistan Air Force (PAF) after it violated Pakistan's airspace on February 27.  He also urged the US to play its role for resumption of dialogue between Pakistan and India to find solutions to all outstanding disputes.

US special envoy arrives in Islamabad on two-day visit on April 4

During the heightening military tensions between Pakistan and India following the February 14 Pulwama attack in Indian Occupied Kashmir, Pompeo was in contact his counterparts in India and Pakistan as part of efforts to avoid further escalation in tensions.

Although, Pakistan did not say it publically, it was not entirely happy with the 'partisan' approach of the US in dealing the crisis. It was particularly concerned at Washington's characterisation of Indian fighter jets' violation of Pakistan's airspace on February 26 as a 'counter terrorism action.'

Pakistan also voiced its reservations over Washington's recent move to table a resolution in the UN Security Council against Masood Azhar while bypassing the UN Sanctions Committee that otherwise has the mandate to take care of such issues.

China, which put a technical hold on joint US-French resolution against Azhar in the UN Sanctions Committee, endorsed Pakistan's position too.

Qureshi and Popmeo also discussed the prospects of Afghan reconciliation process. "Both leaders agreed to continue to pursue the Afghan reconciliation process," the statement said.

They discussed Pakistan's facilitating role and agreed that the US Special Representative for Afghanistan Zalmay Khalilzad's forthcoming visit to Islamabad would provide an opportunity to further build on the gains made so far.

The foreign minister reiterated that Intra-Afghan dialogue is an important component of the reconciliation process. He emphasised the need to enhance interaction at the leadership level.

Khalizad, the US chief negotiator with the Taliban, is expected to arrive in Islamabad on April 4 as part of his tour to the regional countries to discuss the Afghan peace process.

His visit comes just days after he criticised Prime Minister Imran Khan for his reported statement suggesting an interim set up in Afghanistan to break the impasse in dialogue.

However, before embarking on a tour to regional countries, President Trump's point for Afghanistan lauded Pakistan's role in helping the reconciliation process in what appears to be statement aimed at easing friction with Islamabad.
COMMENTS
Comments are moderated and generally will be posted if they are on-topic and not abusive.
For more information, please see our Comments FAQ