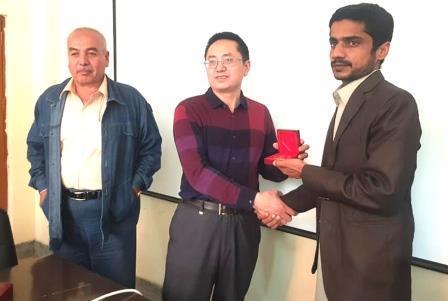 ---
ISLAMABAD: Chinese company MRDL President Khosho Yong has said the Saindak project is a link between Pakistan and China's friendship.

"We are playing every possible role for the economic and social development of the people of Balochistan," said the MRDL president while meeting a delegation of the Dalbandin Press Club in Saindak on Sunday.

"MRDL has been working with technical expertise for the past 17 years to extract natural resources from Saindak and during this time, hundreds of Pakistanis had been provided employment while nearby areas had been provided electricity, education, water and health facilities," said Yong.

He maintained that the project to provide water and electricity to Nokundi had also been approved by the CSR fund of the Saindak project.

He said, "Work on various development projects has been carried out in Chagai."

To a question, Yong said 56% of the profits coming from the Saindak project were being received by Pakistan, while 46% were being received by MRDL.

"We are doing our part and will expand development work to every extent possible," said Yong, adding that the China-Pakistan Economic Corridor was an important milestone of "our friendship" and "its centre will be Balochistan".

"With CPEC, a new phase of prosperity will start in the country, including Balochistan," said Yong.

He admitted that with time problems of various kinds were increasing in the Saindak project, but MRDL, with the support of Pakistanis, was facing and solving problems.

"Journalists play an important role in creating awareness in the society," said the MRDL president, adding that there was no shortage of resources in Chagai and they had to move forward together for progress.

"Foreign investors invest only when they see an opportunity. When chances are not provided it becomes difficult to continue work," said Yong, expressing determination that the MRDL would play its role in the development and progress of the locals.

Towards the end, journalists apprised Yong of the overall issues of the journalists of Chagai, including Dalbandin, Taftan and Nokundi.

The delegation of journalist included Dalbandin Press Club President Ali Raza Rind, leader Haji Abdul Sattar Kashani, Vice President Zahir Shahzad Notezai, General Secretary Mir Ahmed Muhammad Hassani, Finance Secretary Haji Farooq Adil Siyabad, Press Secretary Qamar Zaman Gorgej, Office Secretary Shabbir Ahmed Mengal.

Senior journalists Ali Dost Baloch, Qazi Riaz Hussain, Muhammad Bakhsh Baloch, Faizullah Abid and MRDL Vice President Khalid Gul Yusufzai, Assistant Director Muhammad Gul Mengal and other Pakistani and Chinese officers were present.
COMMENTS (1)
Comments are moderated and generally will be posted if they are on-topic and not abusive.
For more information, please see our Comments FAQ