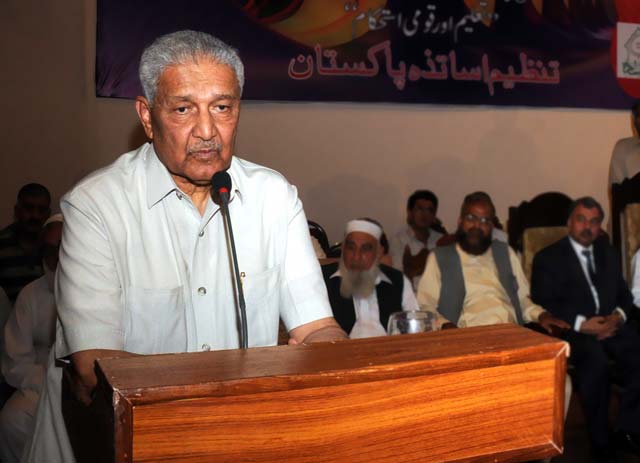 ---
KARACHI: Young researchers of our country are like diamonds, we just need to polish them as they are equally skilled and talented as their counterparts in other parts of the world, said Dr Abdul Qadeer Khan adding that students who go abroad should remember that their prime job is to get advanced education and knowledge. They must spend more time in learning from teachers and laboratory experiences rather talking about politics or religion during their stays in foreign land.

Dr AQ Khan said this at the award distribution and closing ceremony of the 'Third Oral Presentation Competition for M Phil and PhD Students' held on Sunday at the Dr AQ Khan Institute of Biotechnology and Genetic Engineering (KIBGE), University of Karachi.

Federal Urdu University teacher suspended pending 'harassment inquiry'

Khan advised the students planning to go abroad that they should work hard for the two to three years and that would be useful for the rest of their lives. "Return and serve your country after completing studies and spread your knowledge," he said. Whatever you study, it must be practically applied for the betterment of the society and masses. Otherwise, it is not worth as our beloved country needs hardworking and dedicated youngsters to come forward and take the lead so that Pakistan could become part of developed nations, he added.

He lauded the research and teaching at Dr AQ Khan Institute of Biotechnology and Genetic Engineering being done according to the latest standards. The institute not only holds a position and recognition in Pakistan but across the globe due to its success, he said.
Dr AQ Khan further said that Pakistan was not short of skill but there is a need to provide the youth with opportunities to help them show their potential.

Senator Abdul Haseeb Khan, speaking at the event, said that there was almost no collaboration between the varsities and the industries. "There is an urgent need to promote such a collaboration, which is indispensable for success." A varsity is responsible for research only but industries do not only practically implement them but also market them which adds to exports. "Considering it, I have decided to build a latest laboratory and a committee has also been formed which will help in promoting researches being conducted at varsities and which will also create a strong collaboration among the varsities, said Abdul Haseeb.

He further said, "It will be my desire to have Dr AQ Khan a part of the committee so that based on his experience the project could achieve far-reaching results and be successful."

He added that there was none equal to our armed and brave forces but the eminent recognition and status enjoyed by Pakistan amongst the Islamic world is because it being an atomic power. Dr AQ Khan, his team and every individual who had facilitated in making the atomic programme a success are to be credited for it.

Professor Dr Tabassum Mehboob from the Department of Biochemistry said that it was a matter of pride for us that all the researchers awarded certificates today are on a par with international researchers. Our youth have attained this status due to their untiring handwork and experience of their teachers.

Experts in Sindh warn against environmental degradation

It is also welcoming that scores of young students are not only presenting their research and technical papers at local varsities but also on international platforms, said Dr Mehboob.

KIBGE Director-General Professor Dr Abid Azhar shared that this Institute provides equal opportunity to students across the country and we are so proud that our students are performing extraordinarily around the world. "The institution is not only for Karachiites, but people from all over the country come here to acquire education. Here students, irrespective of their background, are given admissions only on the basis of merit and capabilities.