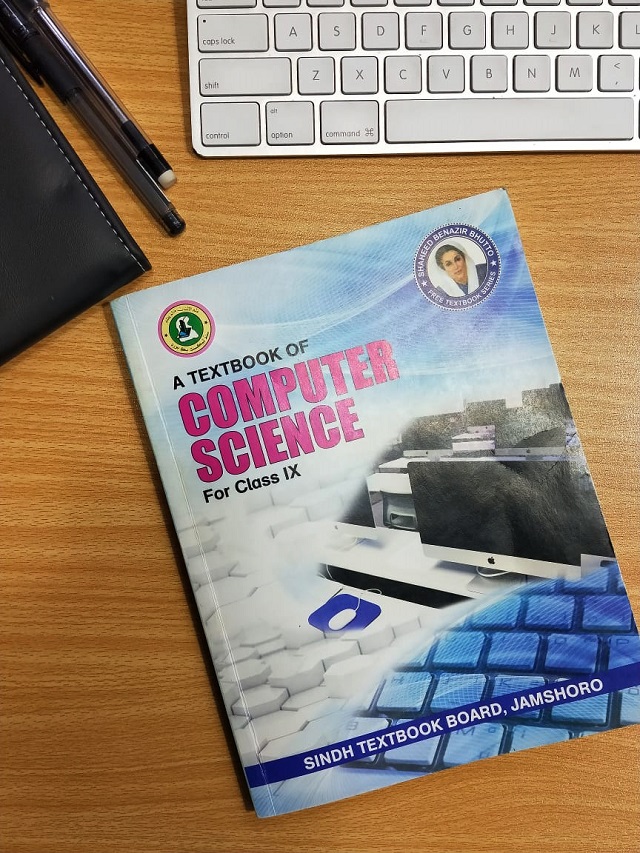 ---
KARACHI: Perhaps no other technological domain has advanced as rapidly as the field of computer science. In the span of a few decades, we have moved on to handheld devices more powerful than the supercomputers of yesteryear.

But as the world makes even further advances, exploring technologies like cloud computing and artificial intelligence, Sindh education authorities appear to be struggling to keep pace.

The Express Tribune got a hold of the new edition of the Class 9 Computer Science textbook published by the Sindh Textbook Board only to discover that the province's students are being taught a curriculum outdated by around 20 years.

For instance, the chapter on Microsoft Windows lists Windows 98, Windows 2000, Windows NT and Windows XP as the latest versions of the operating system (OS) "now available for use". This is despite the fact that tech giant Microsoft not only suspended all software support for the latest of these five years ago but has also started phasing out support for some of its successors as well.




Volkswagen deepens cloud computing partnership with Microsoft

The chapter on storage devices, meanwhile, lists everything from CD-Roms, which current students may vaguely remember, to floppy disks and magnetic tape, which they are unlikely to have used or even seen. However, there is no mention of USB storage devices, which have by and large replaced CDs, DVDs and other formats as means of data transfer or cloud storage services like Google Drive.

Indeed, many laptops these days do not even ship with a CD or DVD drive. Most provide only USB slots instead and some state-of-the-art models are beginning to migrate away from that format as well.

The new textbook also fails to touch upon mobile and tablet computing, which between them constitutes more than half of all computer usage worldwide. But perhaps the biggest crime it commits is to not have a single line, let alone a chapter, on the Internet and social media in a day and age where they have become the primary preoccupation of all computer users.

It should be alarming that such an outdated book will be used to prepare the more 700,000 students of Sindh who will appear in this year's Matric Board Examinations.




"The computer science book needs be immediately changed," said Matric Board Chairman Karachi Dr Saeeduddin, when contacted by The Express Tribune. "It is completely astonishing… right now, the Class 6 Computer Science book is more advanced than the one taught in Class 9," said Sindh Education Department Curriculum Head Dr Fouzia Khan.

Talking to The Express Tribune, Sindh Bureau of Curriculum Director Asghar Memon admitted that the curriculum being used for Class 9 was last revised in 2002. "From 2013 onwards, we started implementing a new curriculum, introduced nationally in 2006, but it is taking some time," he said.

"So far, we have changed the curriculum up till Class 8," said Memon. "Classes 9 and 10 are next in line for curriculum revision. Work on this will be finalised in May-June this year and the books will be printed in the months that follow."

"But the new curriculum will only come in force in the 2020 academic year," he added.

Microsoft briefly tops Apple as most valuable company

Dr Fouzia, however, warned against expecting too big of a change. "[Although] after much delay, sincere efforts are being made to revise the Class 9 curriculum… the new book will not be entirely different from the old one," she said.




Dr Saeeduddin, meanwhile, said his department offered to update the textbooks currently used but had not received a positive response. "We wrote a letter to the education department. We told them we could compile a better alternative to the current books," he said. "But there has been no progress. No meeting has taken place."

When asked why Sindh authorities took until 2013 to implement a curriculum introduced nationally in 2006, Memon said the issue was complicated on two counts.

"When the new curriculum was introduced, it was first rejected for being prepared by a dictator [Pervez Musharraf]," he said. "Then, when in 2010 education became a provincial subject through the 18th Amendment, provincial authorities reviewed the 2006 curriculum and found it to be better than the one currently in use."

"This, in a nutshell, is a story of the delay," he added.
COMMENTS
Comments are moderated and generally will be posted if they are on-topic and not abusive.
For more information, please see our Comments FAQ