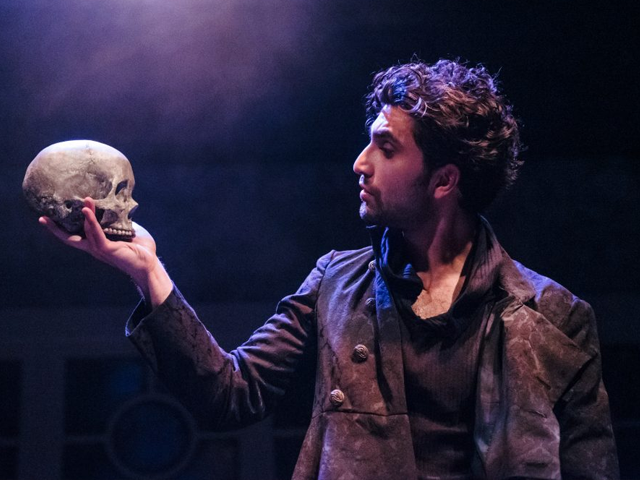 ---
It was last year that heartthrob Ahad Raza Mir revealed he is prepping to star in Shakespearean play Hamlet. "It's something I've been really looking forward to," he had told The Express Tribune. 

The Aangan star ventured into acting as a theatre artist. So, going back to Canada as the protagonist of one of the biggest plays is more like going back to his roots for Ahad. He is playing the titular character in Vertigo Theatre's Hamlet: A Ghost Story.

https://www.instagram.com/p/BuoWkKVn3Er/

"It's really nice because you leave one place and you think that place will forget you but they didn't," Mir recently told The Gauntlet. "I was called back to play a lot of roles I wanted to take on but couldn't, and the calls would keep coming. That means that I still have a home here. People think of me enough to go, 'Hey, let's give him a call and see if he wants to play a role. This time, for Hamlet, it worked."

For Ahad, returning to the theatre is more of a personal choice rather than a professional one. "I wanted to return to the stage as I haven't been on it in so long! I also just wanted a challenge and to be honest with you, when I'm in Pakistan, I'm just at my house because if I go outside it can be kind of hectic at times. While I love taking selfies and I love my fans, I just needed this break," he remarked.




Hamlet has been interpreted a lot of times since its origin in 1602. So how does Ahad plans on standing out in the famous character? "Our adaptation is unique because we're playing with a horror element. I think our first goal is to make things relatable for the audience. We don't want people sitting there going, 'What the hell are they talking about'?" he continued. "The way I'm doing it is not so presentational but more humanised. It's less about presenting and more about the actors feeling it. If they communicate properly, then the audience will get it."

The superstar also spoke of how he - a brown actor - has been chosen to play the most popular prince in literature, admitting that there were indeed some alternations made for him to own the character.




"To suit me, they definitely gave Hamlet's costume a desi vibe," he shared.

Being a business student, the Yakeen Ka Safar star reminisced on how he ventured into theatre. "I felt that that's what I wanted to do," Ahad went on. "I think that — unfortunately — when a lot of Pakistani, Indian, Afghani and Bengali people move from abroad and their kids are born here, they force them to take on something that's serious, like becoming a doctor, lawyer or engineer."

The Parwaaz Hai Junoon actor hopes somewhere in the audience, he will inspire a Pakistani youngster to pursuit his or her dream.




"I hope that by doing Hamlet, there's some Pakistani kid in the audience going, 'If he can do it, I can do it'," Ahad said. "My life changed completely when I made that call to my dad and said 'I don't want to do business' and he just said, 'Okay, good. Good for you.' I just hope that parents become more supportive in that sense."

"Your dreams are achievable; you just have to be smart about it," Mir concluded. "You shouldn't listen to people when they tell you not to do something because if you feel it is what you're meant for, then follow it. It's because I'm giving all my effort to one thing only to just move onto something else. If I put 110% into one thing, then something will come out of it."

Have something to add to the story? Share it in the comments below.