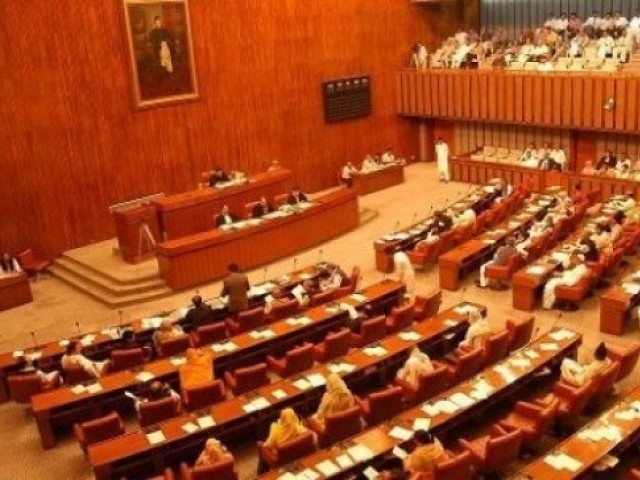 ---
ISLAMABAD: Senate Functional Committee on Problems of Less Developed Areas on Thursday recommended the Zarai Taraqiati Bank Limited (ZTBL) to minimise the markup on loans being charged from farmers.

The committee, which met at the Parliament House with Senator Muhammad Usman Khan Kakar in the chair, also expressed dissatisfaction over the bank's present policy according to which farmers of both arid and rain-fed areas were being charged equal rates of markup.

The panel directed the ZTBL to follow merit in the loan-giving procedure by establishing more branches in less-developed areas of the country to provide equal opportunities to the people of those areas.

The meeting was also attended by senators, including Rahila Magsi, Gianchand, Kalsoom Parvin, Sardar Shafiq Tareen and Samina Saeed.       ZTBL acting president, Ministry of Finance Secretary and ZTBL officials also attended the meeting.

Pakistan's wheat production likely to hit five-year low

The committee regretted that the appointment procedure of ZTBL president had been politicised and the ZTBL had been converted into political bank.

Committee Chairman Senator Kakar said less-developed areas should be compensated, adding that the Senate had passed a resolution to waive almost Rs2 billion debt of the small farmers of Balochistan as the long drought had hit the agriculture sector but the bank had done nothing in this regard.

"Farmers have become defaulters due to drought in the area and about one million fruit trees have been destroyed and similarly farmers have also lost their 9.3 million livestock due to famine," said Kakar.

The ZTBL president said they were giving top priority to the progress and prosperity of the agriculture sector in all the less-developed areas.

The committee was briefed about the overall performance of ZTBL, the detail of loan provided by the bank for agricultural development of less-developed areas of all provinces and the newly-merged tribal districts of Khyber-Pakhtunkhwa, Gilgit-Baltistan and Azad Jammu and Kashmir.

The committee reviewed the status of permanent and contractual employees, and inquired about the availability of vacant posts in the bank.

The ZTBL president told the committee about the overall status of debt.

"The total debt from Punjab province is Rs14,800 million, Sindh Rs5,700 million , Khyber-Pakhtunkhwa Rs1,300 million, Balochistan Rs340 million and erstwhile Federally Administered Tribal Areas Rs150 million," he added.

The president further said ZTBL had so far waived off Rs411 million debt of 6,275 farmers across the country.
COMMENTS
Comments are moderated and generally will be posted if they are on-topic and not abusive.
For more information, please see our Comments FAQ