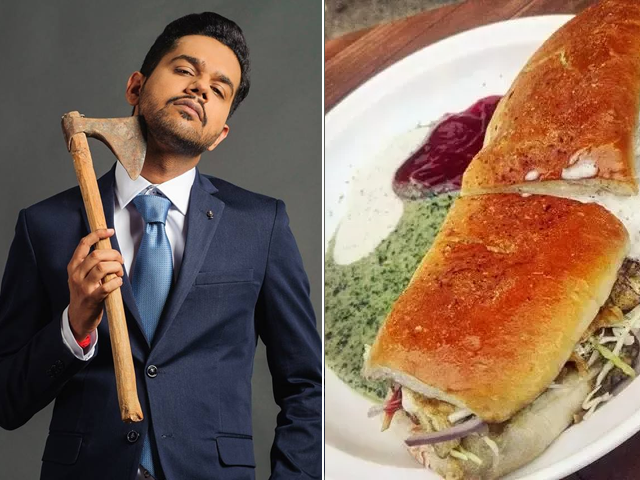 ---
Ali Gul Pir has a very simple request to the famous eateries of Pakistan: he wishes to have the very popular Anday Wala Burger on their menu!

Taking to social media, the comedian-cum-singer shared a video of him visiting several food outlets in the city, trying to find one item he wishes to have and failing to get it.


Mujhe #AndayWalaBurger kon khilayega? pic.twitter.com/OkCv2YJQPj

— Ali Gul Pir (@Aligulpir) March 25, 2019


The video ended with a question: who will serve him Anday Wala Burger. That's all it took for the item to trend on Twitter!

Talking about all the fuss, Pir told The Express Tribune, "It was a harmless idea for a short funny video which became viral and started trending," he laughed. "I think Anday Wala Burger is a very important part of our heritage and we need to it seriously. Why is it always about Beef burger, Zinger burger, Cheese burger. Who will speak for the much neglected Anday wala burger?"

He was so disappointed to not find Anday Walay burger at these big outlets that he took it upon himself to to restore it's lost glory.

"McDonald's have actually responded to my call for Anday Wala Burger. And if they don't, trust me I'll get 1000 Big Mac vouchers as compensation," he quipped.

He finally concluded by saying, "I just think Anday Wala burger is a Pakistani invention and should be available in high end burger places too. Why are our burgers so burger?"

Will Pir finally get Anday Wala Burger at a high-end outlet? We really hope so! Afterall there's no replacement for our own, custom-made, juicy sandwich!

Here's to a more inclusive Pakistan and less burger, burgers!

Have something to add to the story? Share it in the comments below.