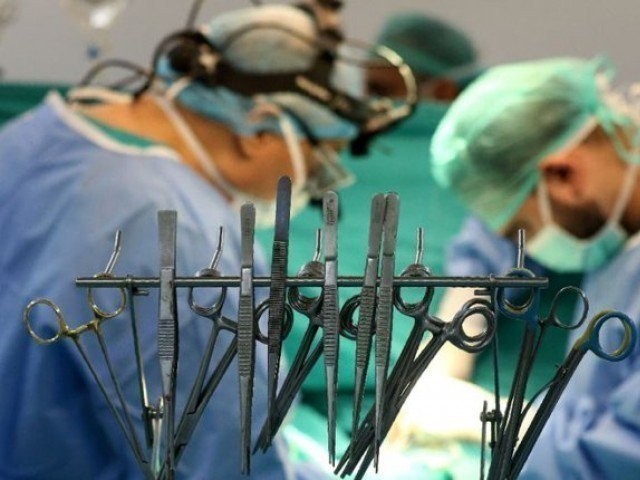 ---
PESHAWAR: The Khyber Teaching Hospital (KTH) Peshawar Department of Paediatric surgery arranged "First Live Operative Minimally Invasive Paediatric Surgery Workshop" at the hospital on Wednesday.

Paediatric surgeons from all over the province participated in this workshop.

A renowned and internationally reputed Minimally Invasive Surgeon Prof Dr IftikharA Jan, Chairman Paediatric Surgery AL-Mafriq Hospital Abu-Dhabi was invited who performed different laparoscopic and thoracoscopic procedures.

This workshops are not only beneficial for the paediatric surgeons of the province in improving the skills but also beneficial for the patients. No scar marks despite major surgical procedures, lesser post-operative pain, earlier mobilisation and decreased incidence of post-operative adhesions makes laparoscopic procedures much more attractive than open procedures.

Khyber Medical College Dean Prof Dr Noorul Iman, Hospital Director Dr Nek Dad Khan, Acting Medical Director Dr Shoaib Khan, LRH Paediatric Surgery HoD Prof Dr Kifayat Khan, North West Hospital Paediatric Surgery HoD Prof Dr Hazrat Ullah Khattak, Khyber Teaching Hospital Medical Teaching Institute faculty members and members of other MTIs' and hospitals attended the workshop.

Different cases performed during this workshop included a patient who had road traffic accident resulting in the injury of diaphragm which was repaired laparoscopically. Appendectomy for acute appendicitis, a female patient with inguinal hernia bilaterally was also operated using laparoscope. Other cases performed included undescended testis and varicocele ligation.

Dr Iftikhar A Jan has more than 30 years broad based clinical, academic and research experience in general paediatric surgery, neonatal Surgery, paediatric urology, minimally invasive surgery and reconstructive surgery.

He is fully trained in endoscopic procedures like bronchoscopy, esophagoscopy, upper and lower GI endoscopies. He has performed and supervised most paediatric procedures from simple hernia repair to complex procedures like oesophageal replacement, endo-rectal pull-through, Posterior saggitalanorectoplasty (PSARP), complex thoracotomies, lung resection, and tumour surgery.

KTH Paediatric Surgery Department has 36 beds which include 26 regular beds and 10 baby carts. MTI KTH Paediatric Surgery Department consist of the most professional and renowned faculty of the province which includes Prof Dr Inayatur Rehman, Associate Prof Dr Tariq Waheed, Assistant Prof Dr Muhammad Imran, Assistant Professor Dr Muhammad Uzair, Registrars Dr Farooq Abdullah and Dr Hazrat Amin. At present seven post-graduate trainees are completing their training in this unit.

Department of Paediatric Surgery has examined 11,549 patients in OPD and 2015 patients were operated in last 15 months.

Security guard found examining patients at Khyber Teaching Hospital

Chairman Department of Paediatric Surgery Prof Dr Inayatur Rehman gave welcome address and thanked Dr Iftikhar A Jan for gracing this occasion. He said minimally invasive surgery is the need of the time and has revolutionized the field of surgery throughout the world. This is the first of its kind and we are aiming for a lot more workshops like this. Workshops like these will greatly help to improve the skills of Paediatric surgeons of the province resulting in the benefits of the patients eventually".

He also highlighted the problems faced by the field of paediatric surgery in this province mentioning that there are only 35 to 40 Paediatric Surgeons in Khyber Pakhtunkhwa providing their services to the children who constitute about 45-50 per cent of our population. Prof Dr Inayat also said that paediatric surgery must be included in the curriculum of undergraduate medical students as a separate subject. He also requested the authorities to establish paediatric surgery unit at district level and create post of paediatric surgeons in every district.  He also thanked administration of Khyber Teaching Hospital for making this event successful with their support.

Hospital Director Dr Nek Dad Khan, Acting Medical Director Associate Prof Dr Muhammad Shoaib assured their full support for the up gradation of the department for the best interest of patient care and training of under and post graduate students.

Dean Khyber Medical College Prof Dr Noorul Iman the Paediatric Surgery Department for arranging such a wonderful event and also ensured his support in future.

Published in The Express Tribune, March 28th, 2019.
COMMENTS
Comments are moderated and generally will be posted if they are on-topic and not abusive.
For more information, please see our Comments FAQ