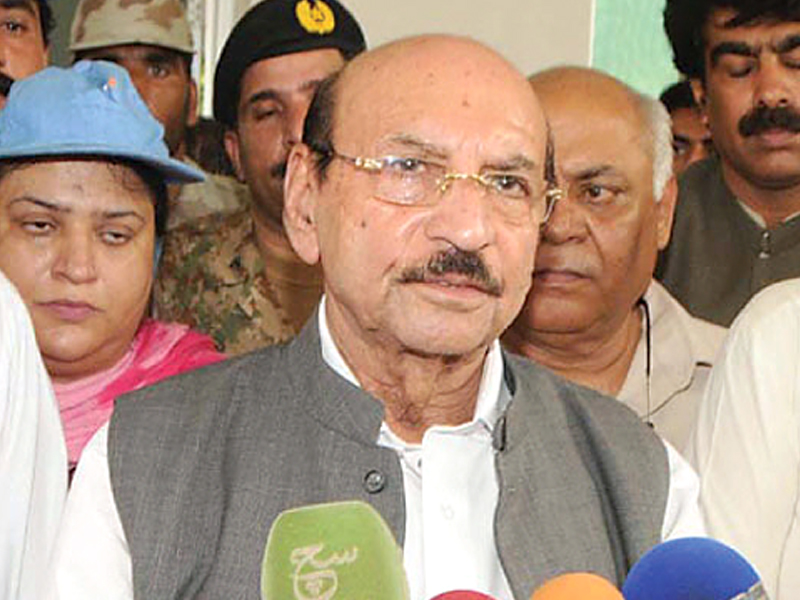 ---
RAWALPINDI: Former Sindh chief minister Qaim Ali Shah appeared before National Accountability Bureau (NAB) officials at the anti-graft body's office in Rawalpindi on Wednesday in connection with the sale of Thatta and Dadu sugar mills allegedly at throwaway prices.

The former chief minister was questioned by a combined team of NAB Rawalpindi for around 40 minutes under the supervision of the office's director general.

Shah was handed over a questionnaire and told to submit it to the investigation team with his answers within 10 days.

According to a NAB spokesperson, it was in light of these answers that the NAB team would decide whether to summon Shah again or not.

The former chief minister reached the NAB office accompanied by Pakistan People's Party leaders Farhatullah Babar and Mustafa Nawaz Khokhar. However, the two PPP leaders were stopped at a police check-post near the NAB office and not allowed to accompany Shah beyond that point.

Later speaking to reporters, the former chief minister said he responded to some of the questions asked by NAB officials and he was also handed over a questionnaire.

"I was asked about the sugar industry. I told them [NAB officials] that the case is over 10 years old and I'm unaware of its details," he added.

Shah further said that he has been summoned again on April 7.

Farhatullah Babar told reporters that NAB was being used for political motives and its chairman should have resigned after Brigadier (retd) Asad Munir's suicide.

"We believe that the process of accountability should take place in an indiscriminate manner," he added.

The NAB spokesperson said that the investigation into the case against Shah was under way under the supervision of NAB Chairman Justice (retd) Javed Iqbal. He added that NAB believed in completing its investigations as per the law and the Constitution and would continue playing its role for eradicating corruption from the country without succumbing to any pressure.

The spokesperson maintained that NAB respected every individual and did not intend to harm anyone. He advised that rumours surrounding NAB investigations should be avoided.

Shah has already been granted a 10-day pre-arrest bail by the Islamabad High Court in a NAB case related to money laundering and fake bank accounts.

He told the court that he had not misused his powers as the Sindh chief minister and criminal case was initiated against him to politically victimise him. He affirmed that he wanted to appear before NAB but feared that he would be arrested and humiliated.
COMMENTS
Comments are moderated and generally will be posted if they are on-topic and not abusive.
For more information, please see our Comments FAQ